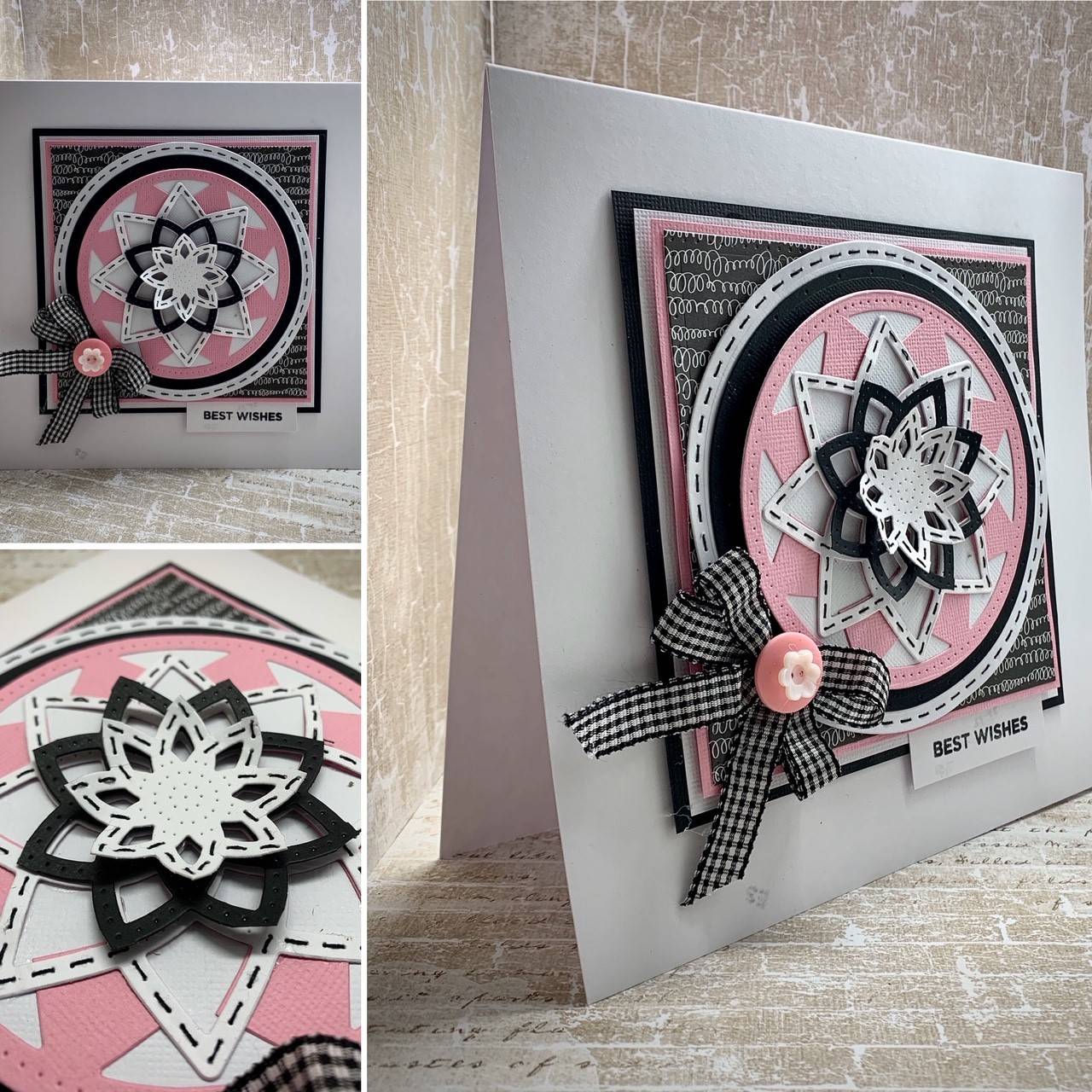 Hello crafters – Dawny P here and I have a little project for you today which uses the Crystal Sphere die set from the absolutely gorgeous and oh so versatile Seamlessly Beautiful die release.
There are three die sets in this release – Crystal Sphere, Celtic Cross and Natural Entwine. They are verso dies so have inside and outside edges which means of course that you can get a whole heap of use from them. The outside edges are perfect for matting and layering as well as cutting apertures. And of course, you can use them to make your card bases as well. What's not to love?
But there's more, and here's the thing; there are little pinpricks on some of the dies which mean that you can add stitching to them and because the work is done for you, there's no worries about getting your stitches even ( I LIKE that). If you don't fancy getting your needle and thread out and hand stitching, you could adjust the stitch length on your sewing machine and use that to create your stitches. I personally quite enjoy hand stitching them because you can do this at night while you are watching telly, and in these strange times we are in right now, it's very very soothing. You could also just add faux stitching with a pen or you can just leave them as they are – they look just as good left unstitched. They have a mandala feel to them and I think they're a really good set to have in your stash because you can make them pretty or quite masculine. The clever designs work well for both.
---
Firstly, make your layers – the sizes are as follows –
Black 148mm square

White 138mm square

Pink 134mm square

Design paper 128mm square.
Glue the design paper straight onto the pink square and the white square straight onto to the black square. Stick the black and white layers centrally to the front of your card base using foam pads and then the pink and design paper layer on top of that using foam pads. You'll need to keep the pads away from the bottom right hand edge of the top layer because we will be sliding the sentiment in here later on.
Now it's fun time so get your die cutter out and cut the following -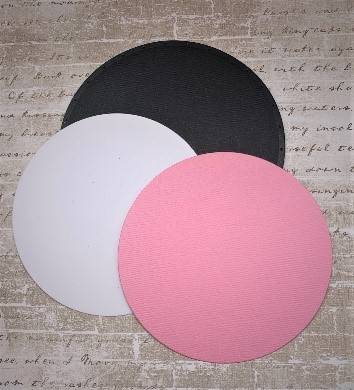 Cut the largest outside edge circle from white (not shown here), the next smallest in black and then the next smallest again in white and pink.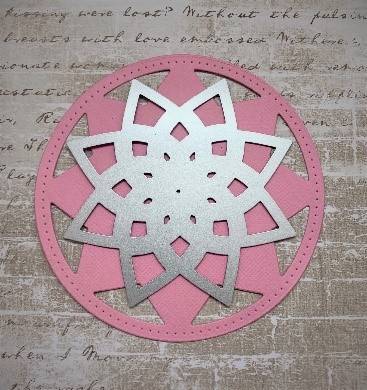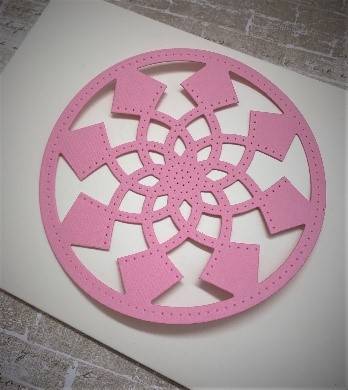 Take the pink circle you cut and cut the inside star shape into it. Then place the inside edge die on top of the die cut as shown and re-cut. You'll end up with the shape shown on the right hand side.
Glue the new pink shape straight down onto the white circle that's the same size.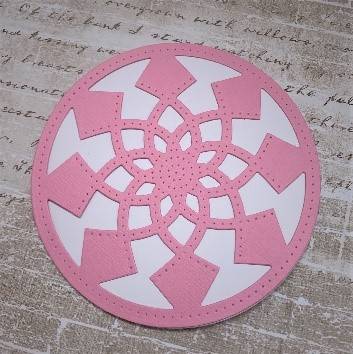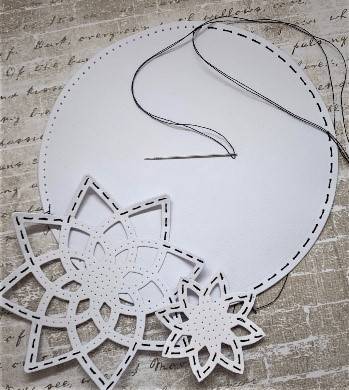 Using white card, die cut 2 of the centre shapes and snip the outside bits away so you are left with the centre bit only. Then add your stitching to these as well as the largest white circle piece you have already cut. I used ordinary sewing thread and used it double and just did a simple running stitch.
This is a before and after pic.
Using black card, die cut another one of the centre shapes and trim away the outer bits so you are left with the middle bit only.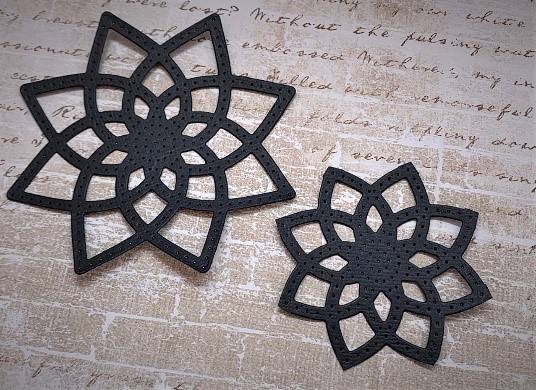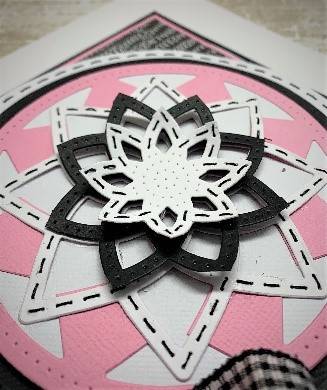 Now let's layer up our die cut pieces.
Stick the stitched white circle onto the card front using foam pads. Then stick the black outside edge circle straight on top of this. Take the pink and white layer that you've made and stick this on top, again using foam pads. Then it's the stitched centre design straight on top, the black trimmed die cut using foam pads and finally the smaller white trimmed and stitched die cut. I used a bone folder to gently curve the edges upwards.
Now stamp your sentiment and trim. Now add a line of glue to the back of the top edge and slide between the layers. Finally make a bow and stick to the front of the card and top with buttons.
---
Although you can make this card as a side fold or a tent fold, I find that the tent fold is better here because of the layers. It doesn't matter what you throw at it, if it's a tent fold it will stand up.
25mm square foam pads – these are my 'go to' foam pads and the only size I use because you can cut them down and make narrow strips, tiny pieces etc. Really versatile. I always add a bit of De luxe Adhesive to them before sticking down as this gives a bit of time to manoeuvre it into the right place.
Scissors – a good pair of scissors will be your best friend when snipping down the dies cuts.
If you find that you have 2 stitches together on the largest white circle where you start and finish (as I did), you can stick your bow on top of this and nobody will ever know!!
---
---
---
---