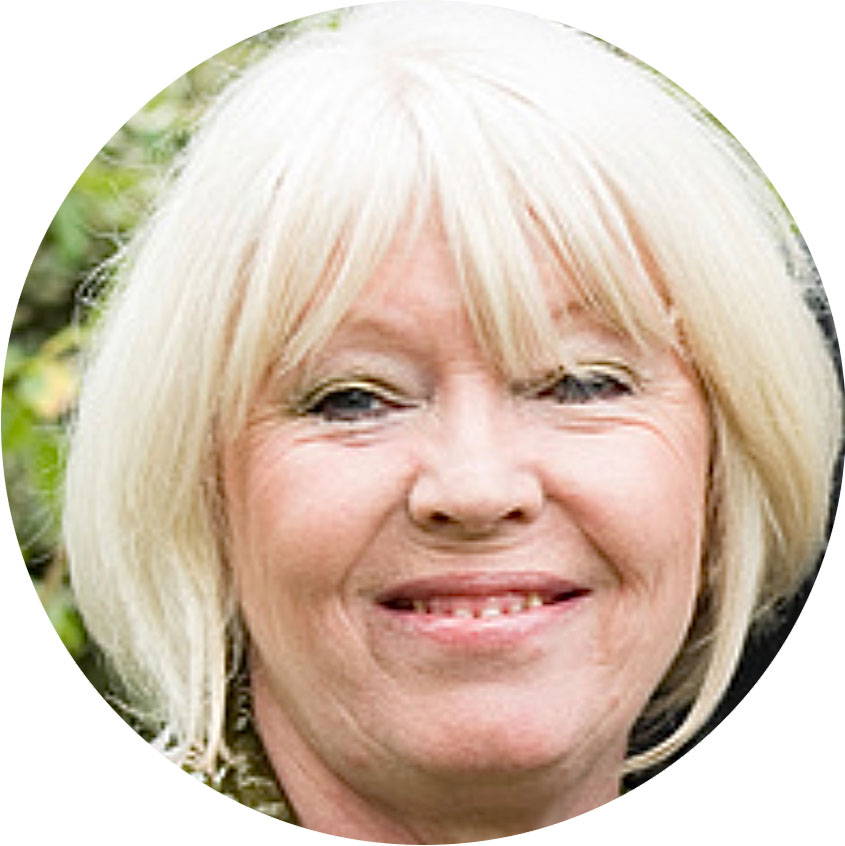 Hello crafters – Dawny P here and welcome to this Tonic Studios Stamp Club tutorial. Our latest set is all about Compassion and Poppies. So if you are after a card to say you are sorry, or sympathy, or just to let somebody know you are thinking about them, then this set is for you, and there's even a birthday sentiment included.
It's a set with stamps and corresponding dies, so no more fussy cutting!! For somebody like me who is rubbish at cutting out, this is an absolute bonus.
There's also 6 different sentiments which work really well on their own, or you can mix and match them to make something a bit more bespoke. The stamps are the most beautiful poppies and flowers, plus some leaves and a stem. Then in the set of dies, you will get a die to cut out your blooms and leaves, plus 2 stem dies and 3 rectangle dies to create mats or frames. I think the leaves and dies would be handy for Christmas as well because you could use them as foliage for your wreath cards. And you can use the stamps to create backgrounds: ditto the stencil you are left with after cutting out your shapes.
So let's go and make something using this awesome set. Even if you aren't a confident stamper, this is a card you can easily make. I used my Tim Holtz Stamping Platform because it makes life a lot easier.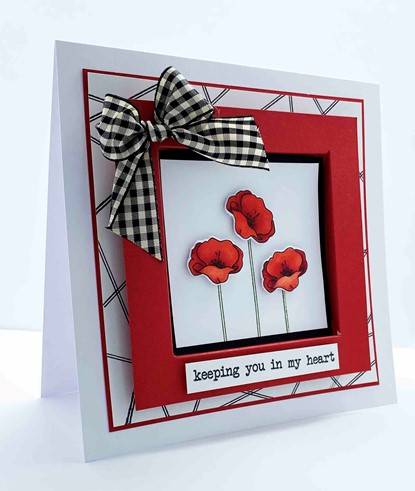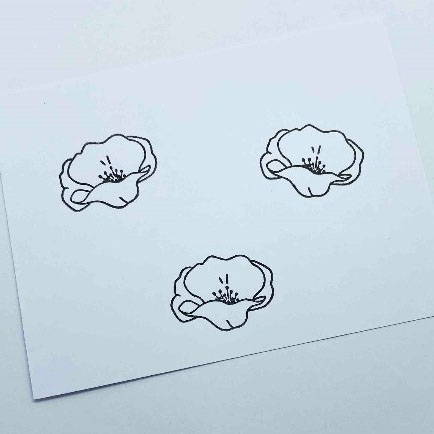 Firstly stamp out 3 poppies from the set. I used Tonic Studios Hybrid Ink in Black Shadow.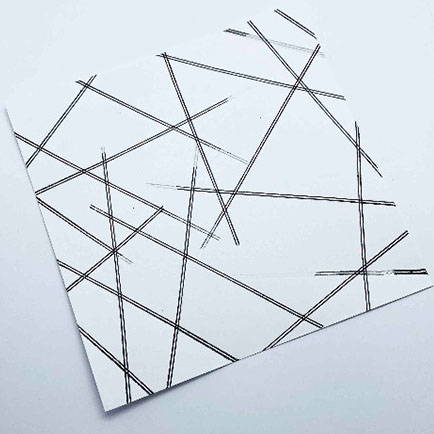 Still using Black Shadow, take the long stem stamp and randomly stamp it over a piece of white card measuring 5 ¾". It doesn't matter if it isn't too neat because some of the centre will be covered up.
I have to say that I LOVE this quirky background. I will be doing this again for sure.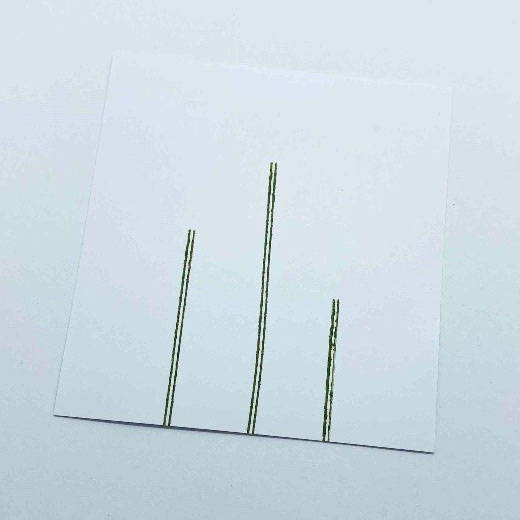 Now let's switch to Nuvo - Ink Pad - Safari Green ink and stamp out 3 stems onto a piece of white card measuring 3 5/8" square.
Back to the Black Shadow ink now and stamp out our sentiment. Isn't that font lovely!! Trim this down to leave a narrow border all around.
Now colour in your poppies. You can use whatever medium you like to do this. If you aren't a confident colourer (or you are in a rush), you can just stamp these straight onto some plain red card and they look just as nice.
Once you've done that, take the corresponding die and cut them out.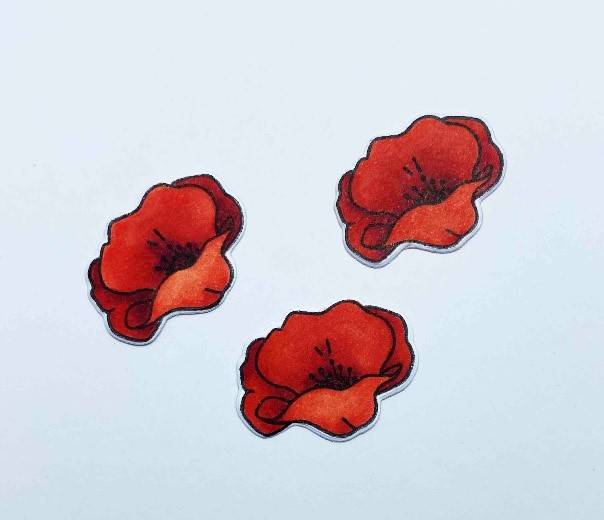 Never in a million years would I get them to look as neat as that with scissors.
---
OK, now we've done our colouring and stamping, let's make something nice to show it all off with.
This next bit is a quite pic heavy but I've broken it down into very simple steps which I hope you'll find easy to follow.
We are going to make a sort of faux frame.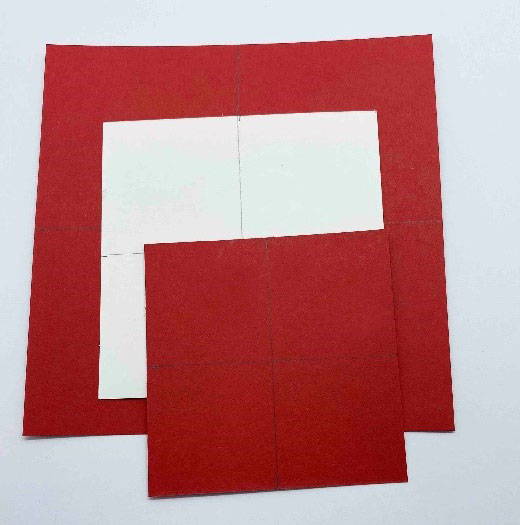 So you need to cut yourselves 3 squares. The largest is 5" square and this is the main card for the frame. Then cut another one that's 3 1/2" square and finally one that's 3" square – these are our templates. These can be cut from scrap card. I find it easier to cut 2 different colours.
Now find the centres on all sides and draw a cross lightly in pencil on all three pieces off card.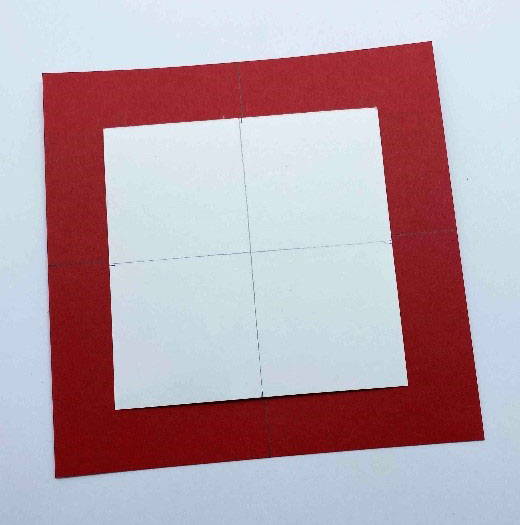 Now place the largest template onto the main card, lining up the lines you've drawn and draw around the edges.
Once you've done that do the same with the smallest template.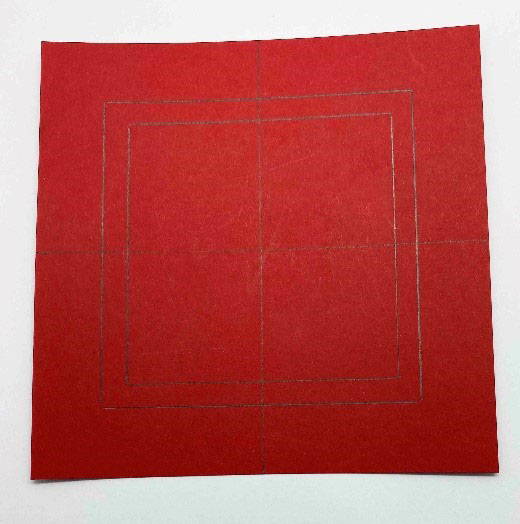 You'll end up with something that looks like this.
Now score around the lines you've drawn as shown. If you have a super trimmer, this bit is a doddle. If not, just use a ball tool and your score board.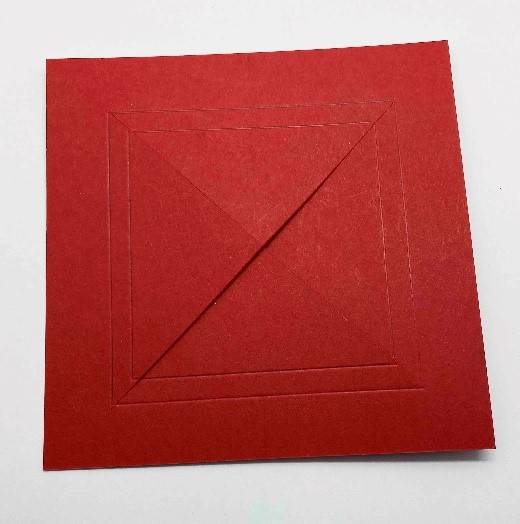 Now cut from corner to corner as shown. Again the super trimmer is fab for this but just use your craft knife if not.
Rub out your pencil lines.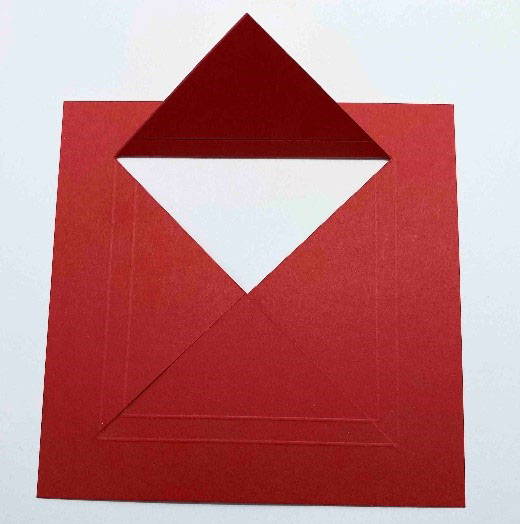 Turn it over and fold outwards one section on the first scored line as shown – it's the outer score line.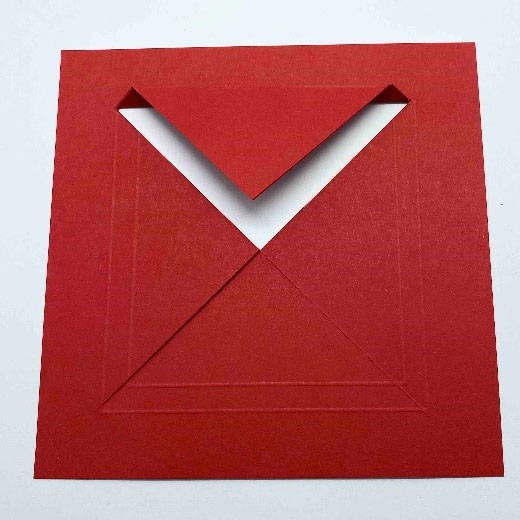 Now fold the same section inwards at the second (inner) score line so it looks like this.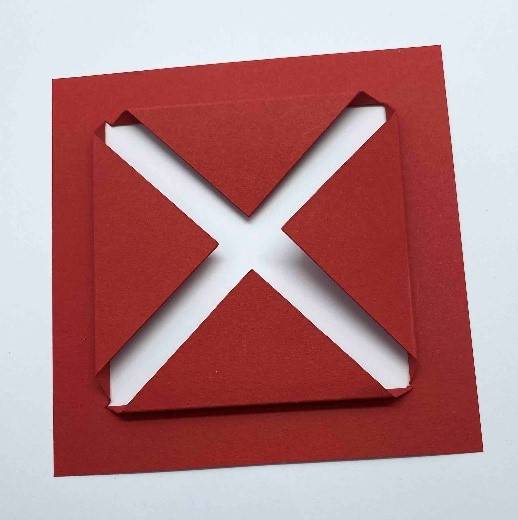 Repeat on all 4 sections. This is what it will look like from the back.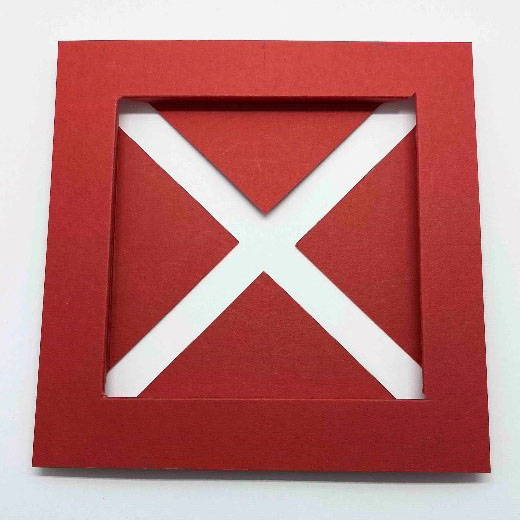 And this is what it will look like from the front.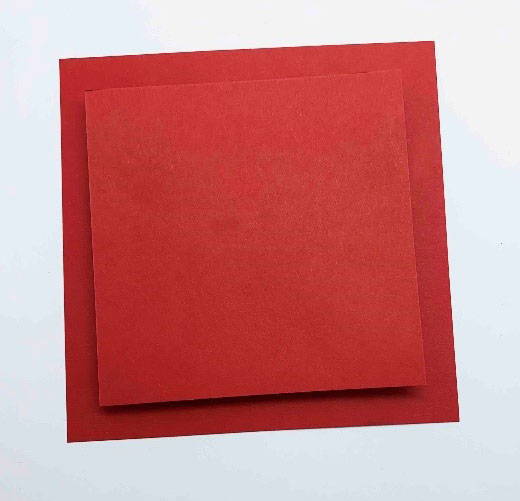 Now cut yourself another square of red card approximately 4 ¼" square and glue it to the back to hold the sections in place.
Now cut a piece of black card 3 5/8" square. You may need to trim this a bit, depending on your fold lines. The idea is that it sits neatly in the recess as shown.
Once you're happy, glue this down.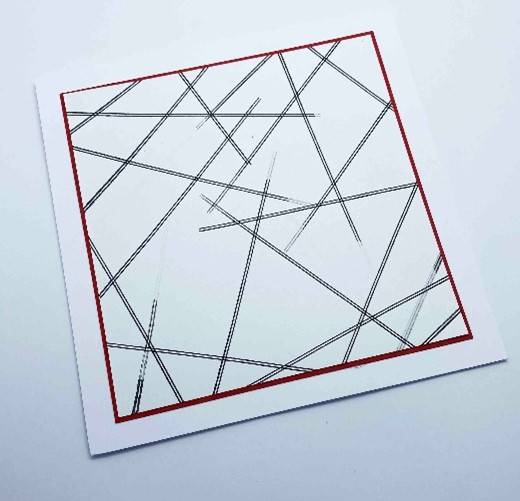 Now back to our funky background. Mat this onto a piece of red card slightly bigger. How much bigger will depend on what size border you want. I quite like a narrow border as you can see. Stick it down to the front of a 7" x 7"card base.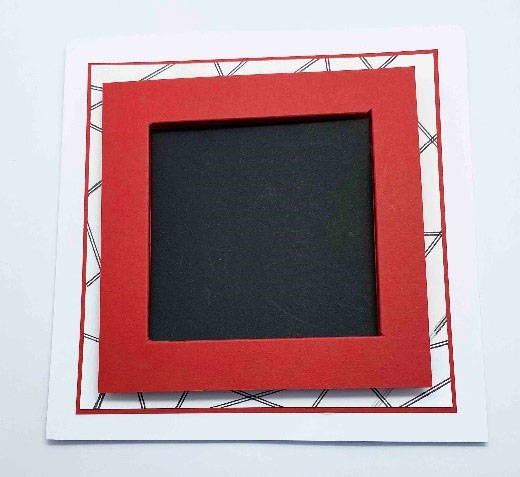 Now take your faux frame and stick it down to the front of the card.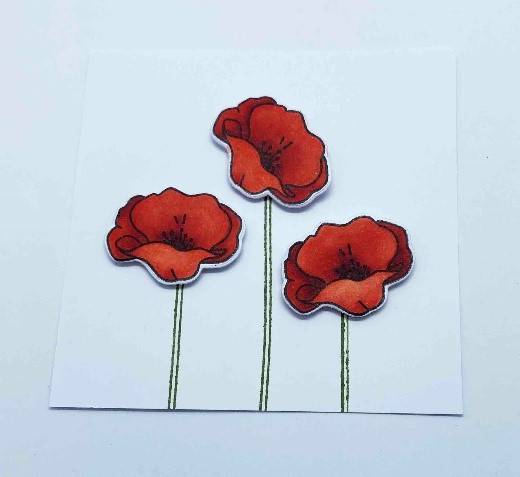 Now take your poppy heads and stick them onto the stamped stems. I used dimensional pads for this but you don't have to.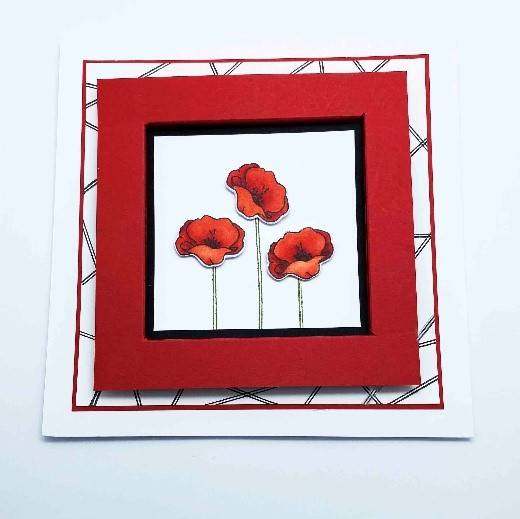 Stick this down onto the black card on the front of the card.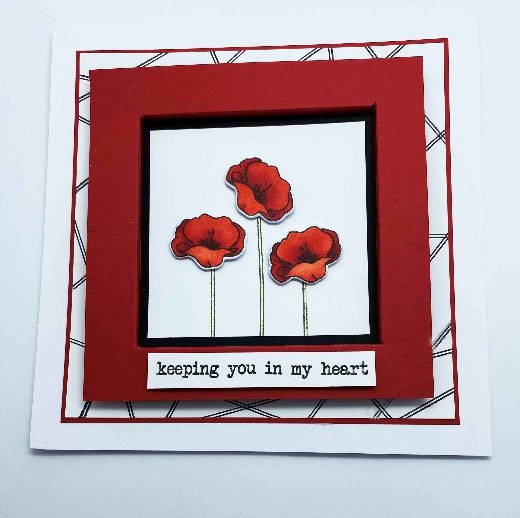 Glue down your trimmed sentiment to the front of the card onto the frame as shown. Again I used dimensional pads but you don't have to.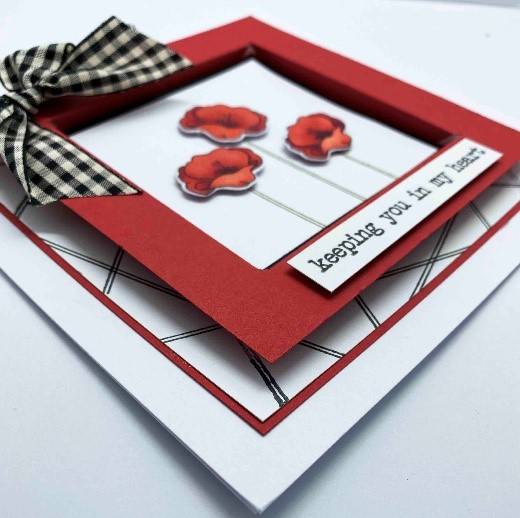 Add a nice bow, and you are all done.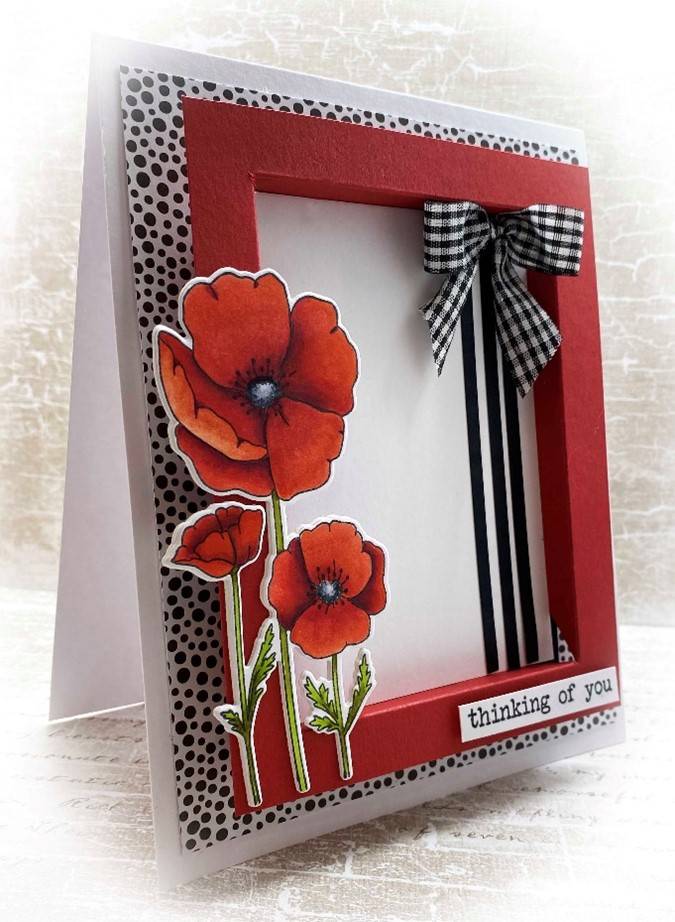 I used the same faux frame idea to make this card.
This frame is rectangular and you just do the same as for the square. The rectangular dies in the set make really good templates for this. They're what I used here.