Hello everyone, This is Louise Sims – also known as Lou or Lulu. I'm a primary teacher and love papercraft. I am part of the Tonic Studios Design Team where we make samples for Tonic UK TV shows. I've been on the team for 3 years now and before joining Tonic Studios, had hardly ever used die cuts in my projects but now… well, that's a totally different thing.
Today I am sharing a project using the Keepsake Creator Insert dies from Tonic Studios, together with easy ideas to add decorative accents to die cuts, using Nuvo Hybrid Inks and Handmade textured Craft Perfect specialty paper!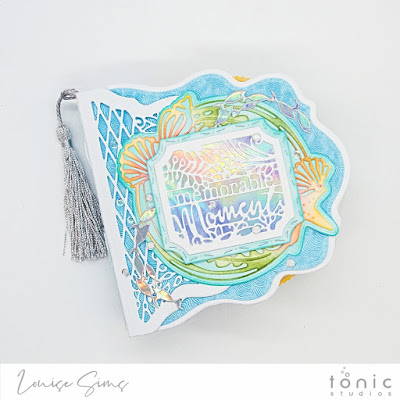 There are 3 different sets to choose from on the Keepsake Creator Insert dies collection. Each set has a different shape, insert, sentiment & decorative panels, etc.
To decorate this project I used dies from the whole collection and enhanced the design with gorgeous die cuts from the Mermaid in Love collection.
I have coloured the die cuts with lots of different Nuvo Hybrid Diamond inks and my trusty Nuvo daubers.
I use different Craft perfect papers listed below at the very bottom of this post for your information.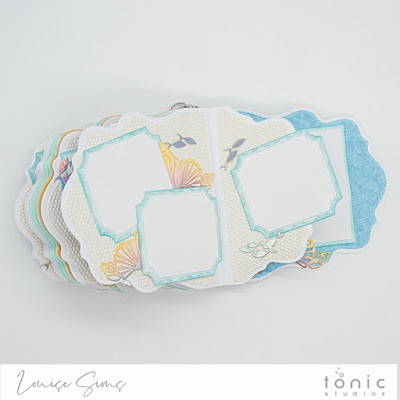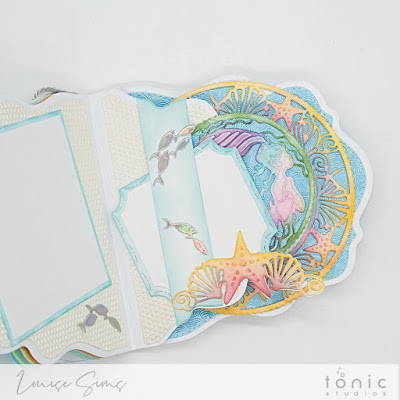 To make this album only took approximately 2 hours from start to finish. Can you guess what the longest part was? Well, it was colouring in all the die cuts which I used as my decoration but not grumbling as finish the book design perfectly.
I filmed a video to share details about this project and show you the die sets…
As you have seen in the video In the centre of my book, I created a notebook – because I adore notebooks – using the dies to create the pages. I have secured them in place with elastic, in order that more pages can be added or pages removed, all easily achieved as they slip away from the elastic. In addition, also using the pages from the Memorable Moments dies collection to create an interactive page for a larger album … and … there's no glue involved! Yep, no glue …  
I have also produced a video explaining two quick but different ways you can use the dies to create your albums without making/using a traditional spine
That's all for today!
Thank for having me in the blog today and look forward to sharing future projects with your all.
Until then, happy crafting,
Lou x.