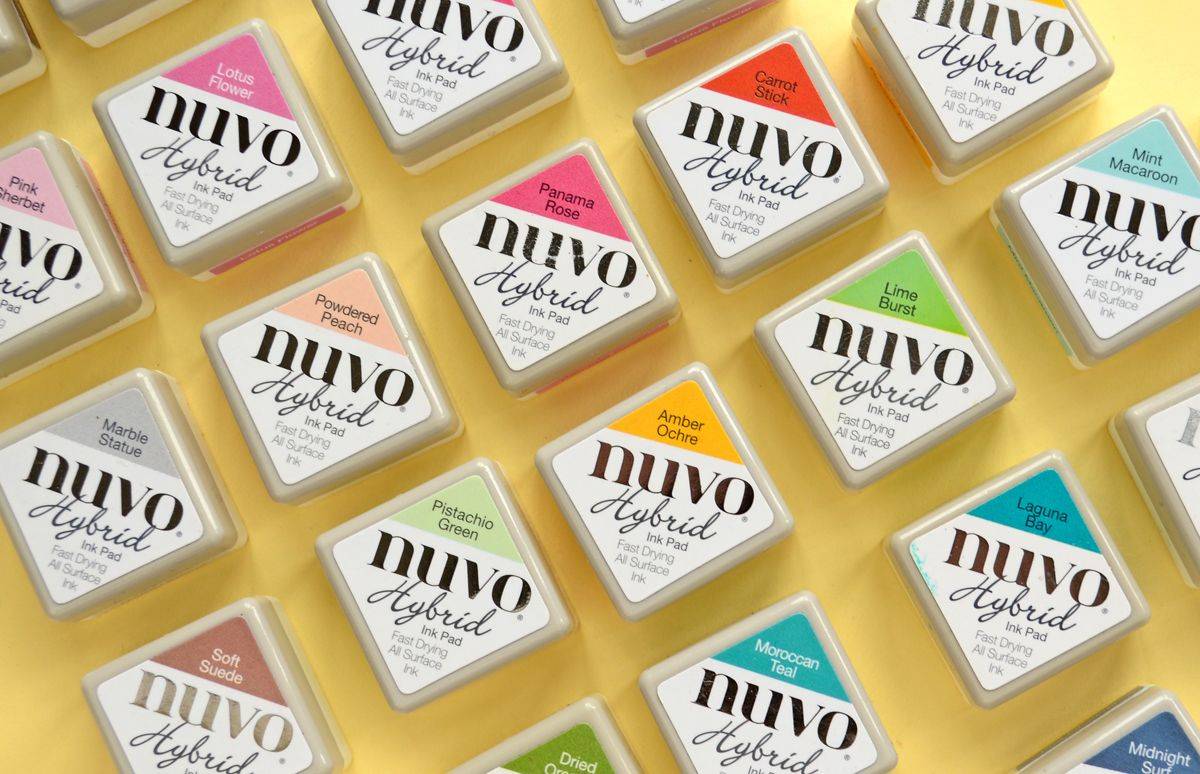 Hello everyone, it's Galina Filippenko with you today. And I'm happy to welcome you to the Tonic Class Room. I can't imagine my crafty life without inks. I'm using them all the time with stamps, dies, stencils, embossing folders and other tools. So in today's class, I want to show you a closer look at the Nuvo Hybrid inks. We will start with the basics and I'll share my favorite techniques and tips.
A Closer Look at Nuvo Hybrid Inks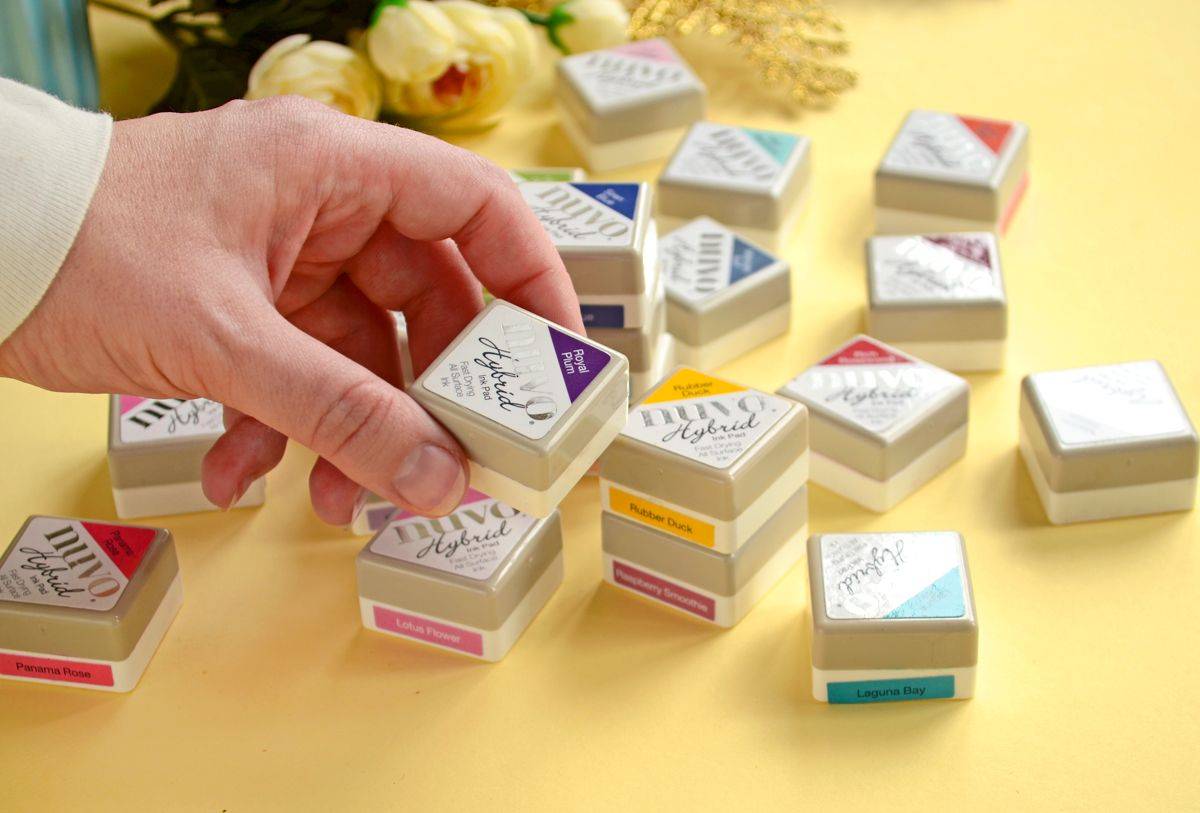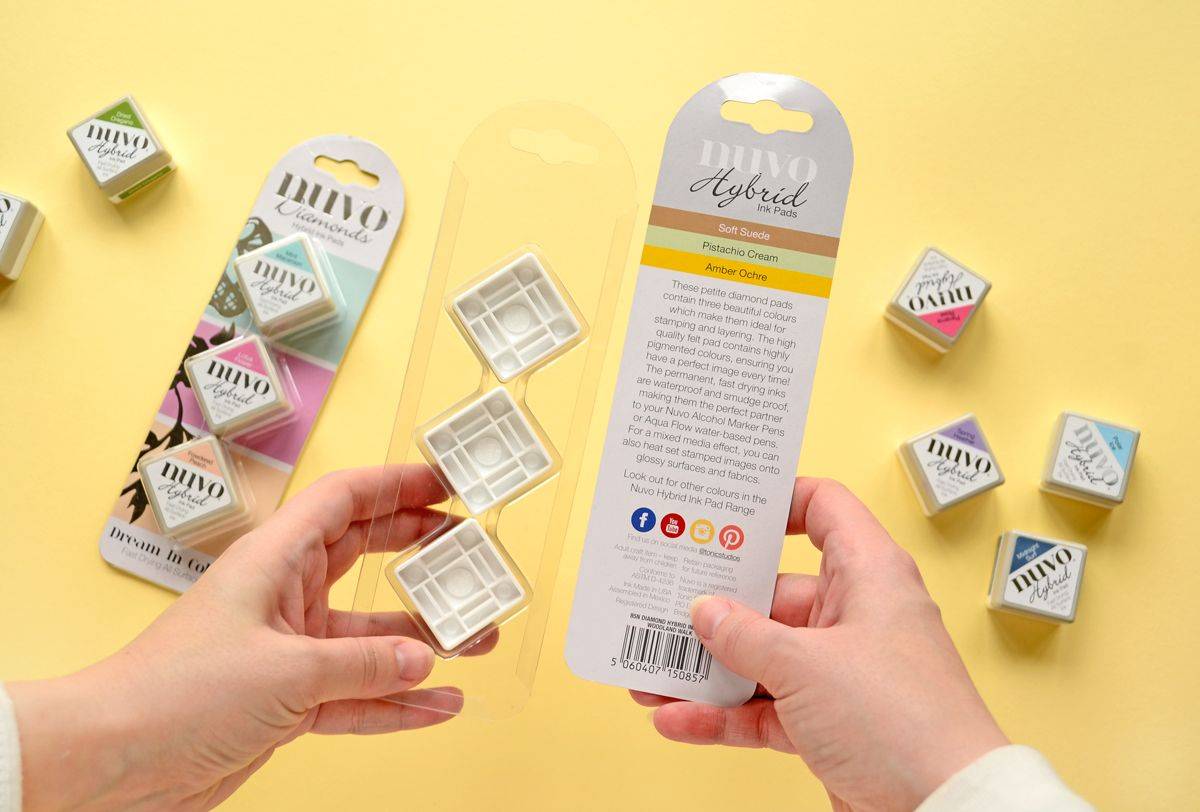 Nuvo hybrid inks come in a package of 3 different ink pads.
You can see the colour of each ink pad on the lid and packaging.
You can store your ink pads in a small container or drawer.
I do not have a craft room, instead I only have a few shelves and a table and I am happy to store all my inks in a small box.
---
So, What are Nuvo Hybrid inks?
Permanent inks
Fast-drying inks
Waterproof
Smudge-proof
Highly pigmented inks
That means you can easily use them with Alcohol markers, Aqua Flow Pens, watercolours, Shimmer powders, coloured pencils or any other colouring medium (which you activate with water) without smashing ink on paper.
This makes hybrid inks a must-have!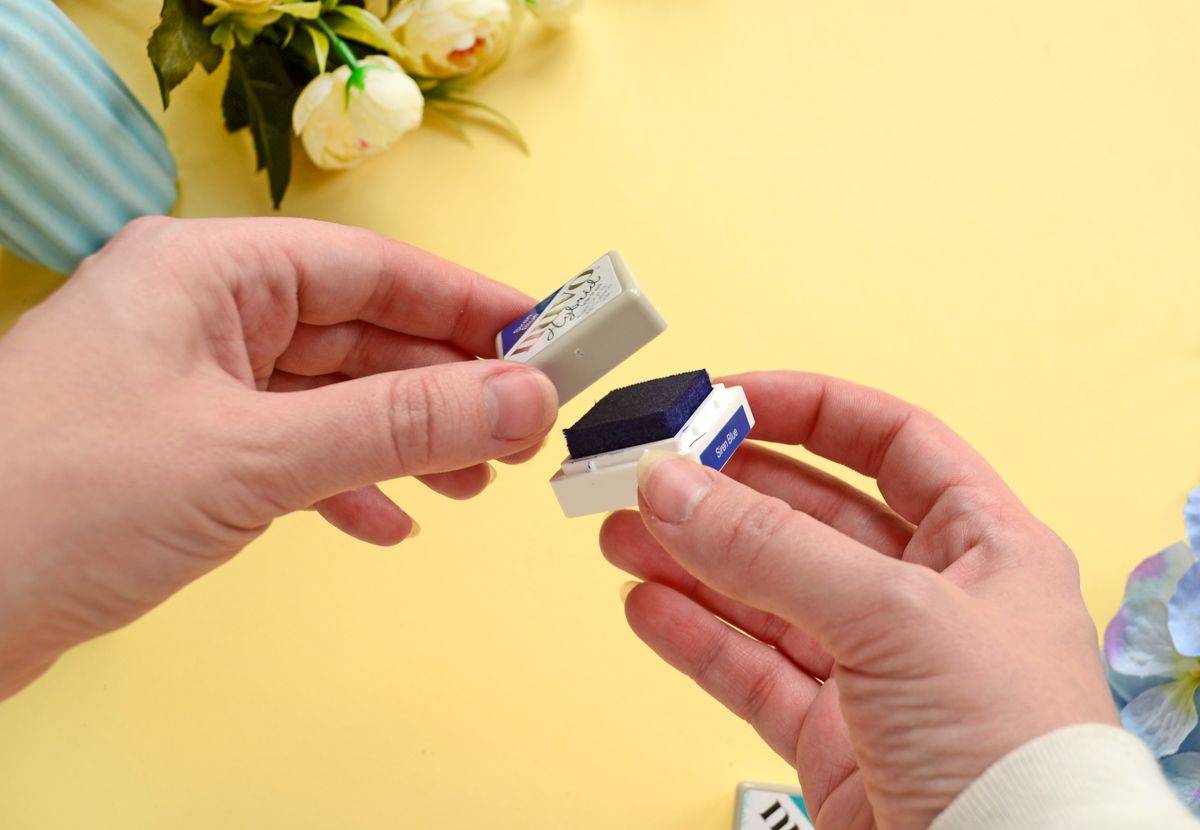 All Nuvo inks have a felt pad, this kind of pad will avoid your stamps from getting messy and will help to cover all stamp with a thin layer of ink.
TIP. Rub your stamp with an eraser if you have problems covering the stamp with ink, especially if it's a new stamp or a silicon stamp.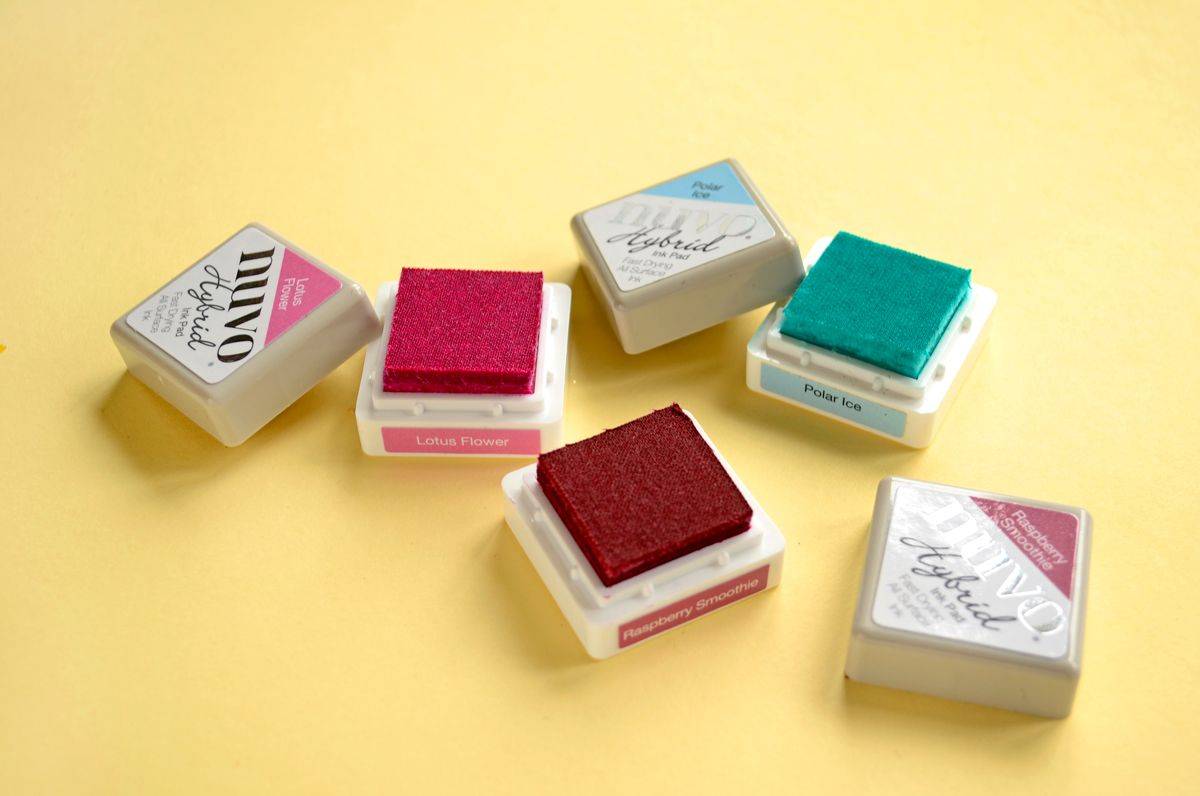 ---
There are eight different sets of Nuvo Hybrid Inks. 24 different colours in total.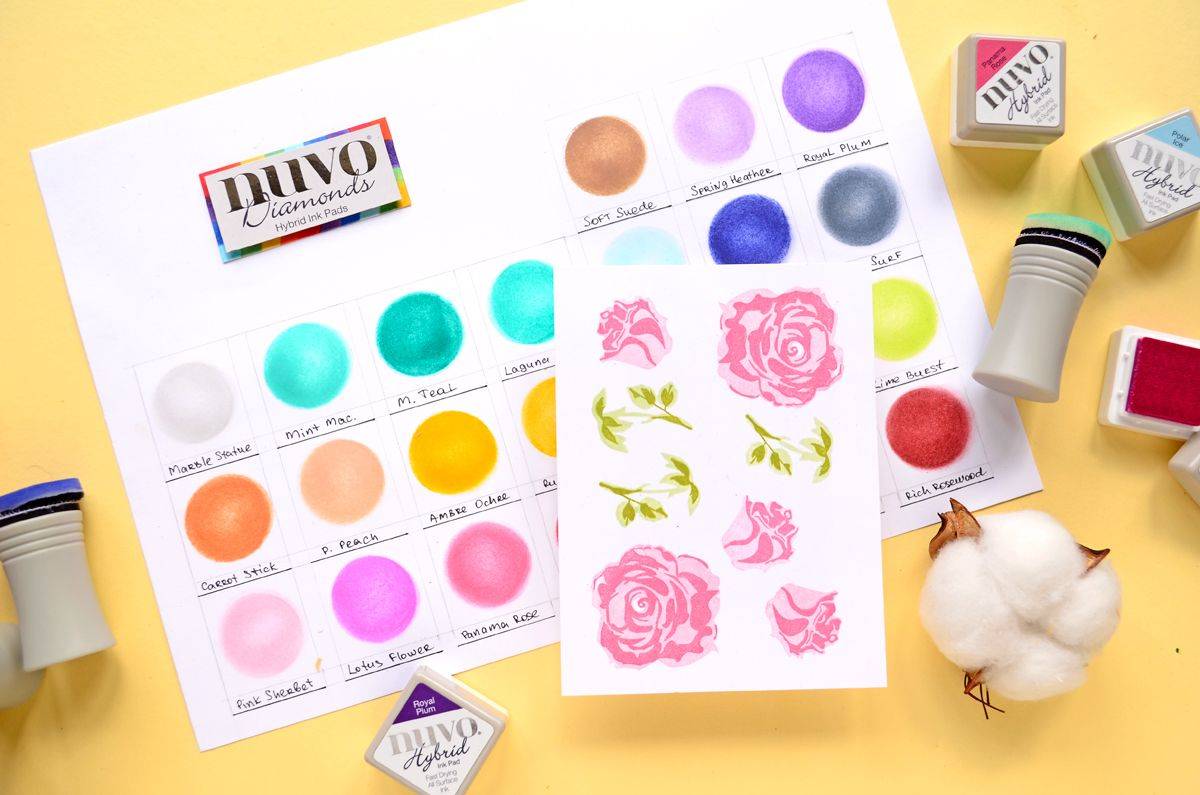 I recommend creating your own colour chart. This is very helpful and inspirational. You can download a premade colour chart from the Tonic web site HERE.
I made my own colour charts, only because I prefer to see all the colours from one colour family near each other.
I cut out a label from the ink packing to decorated my charts.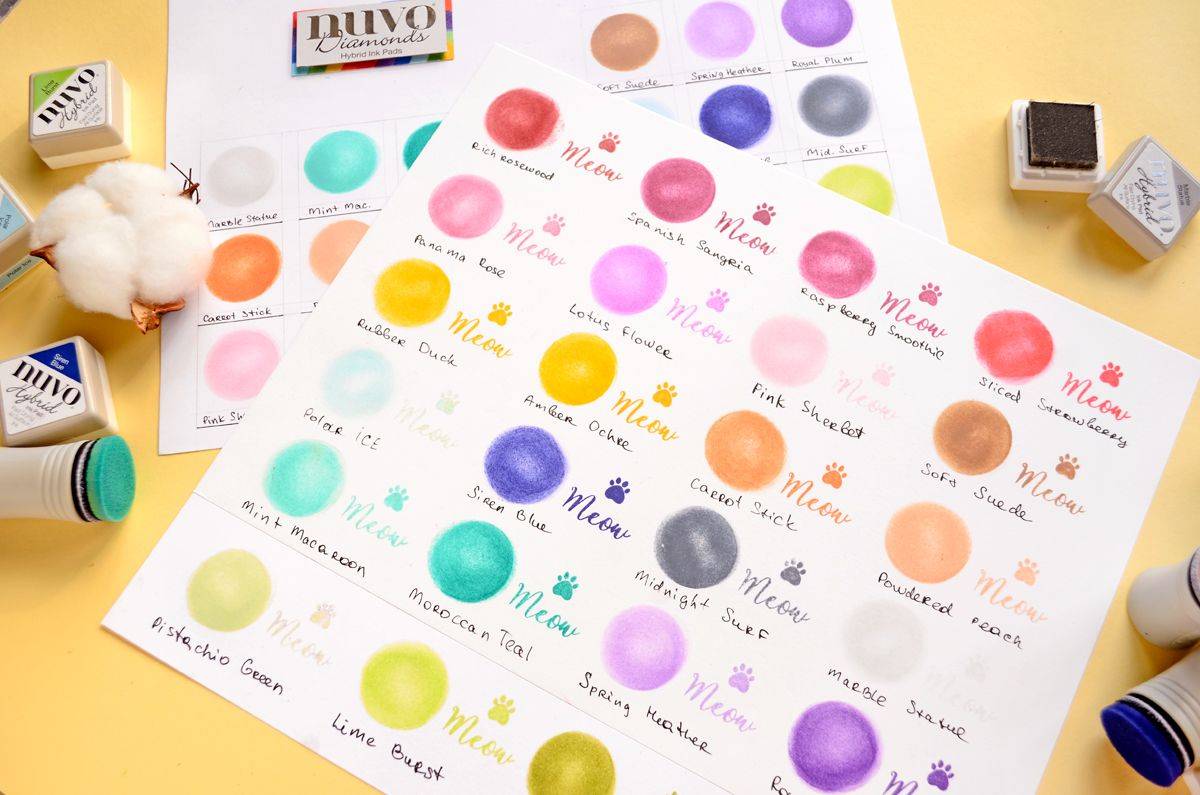 To have all ink options in one sheet, I apply the inks on the colour charts using a blending tool, a small solid stamp and a sentiment stamp.
---
Tools for Nuvo Hybrid Ink Blending and Application

There are two main tools you can purchase from the Tonic Studios store to apply inks on different surfaces: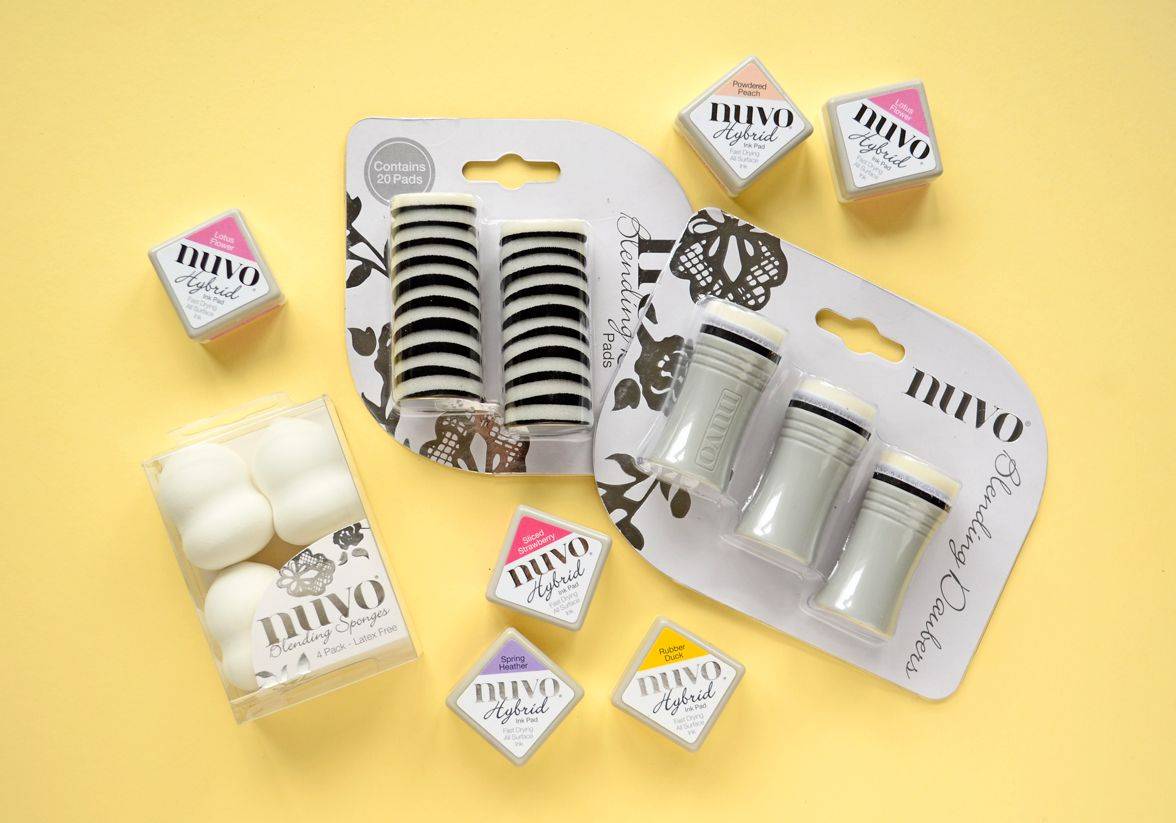 With Blending Daubers you can easily apply inks on the smooth paper and other surfaces and create beautiful gradients.
With this tool, you can also apply the ink through stencils, over die cuts or embossing folders.
Blending Daubers are available in packs of 3 and they include 3 round foam pads.
Additional foam pads can be bought separately in packs of 20 pieces.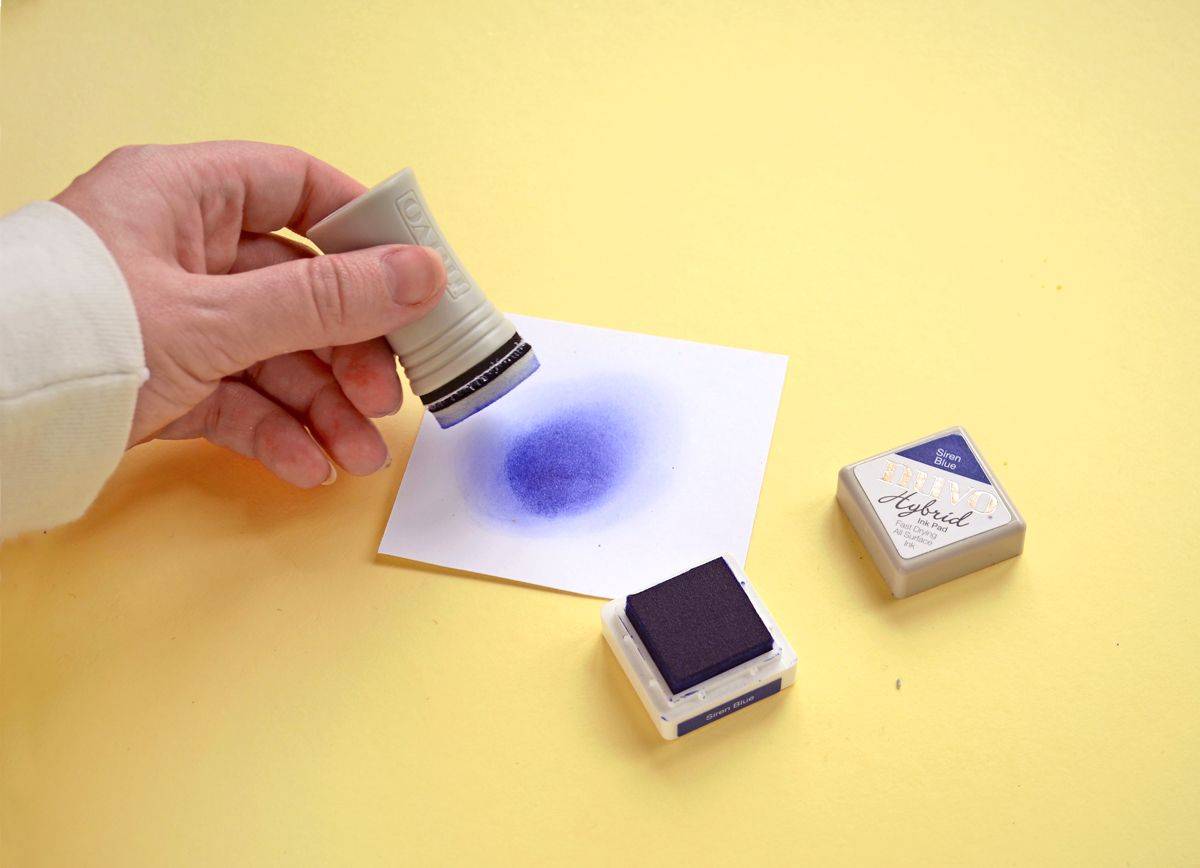 Perfect to apply smooth accents to any artwork with inks.
Washable.
Available in packs of 4.
To easily apply a few different colours on a stamp to then achieve a multicoloured image.
To be used with stencils and embossing folders.
(See techniques below)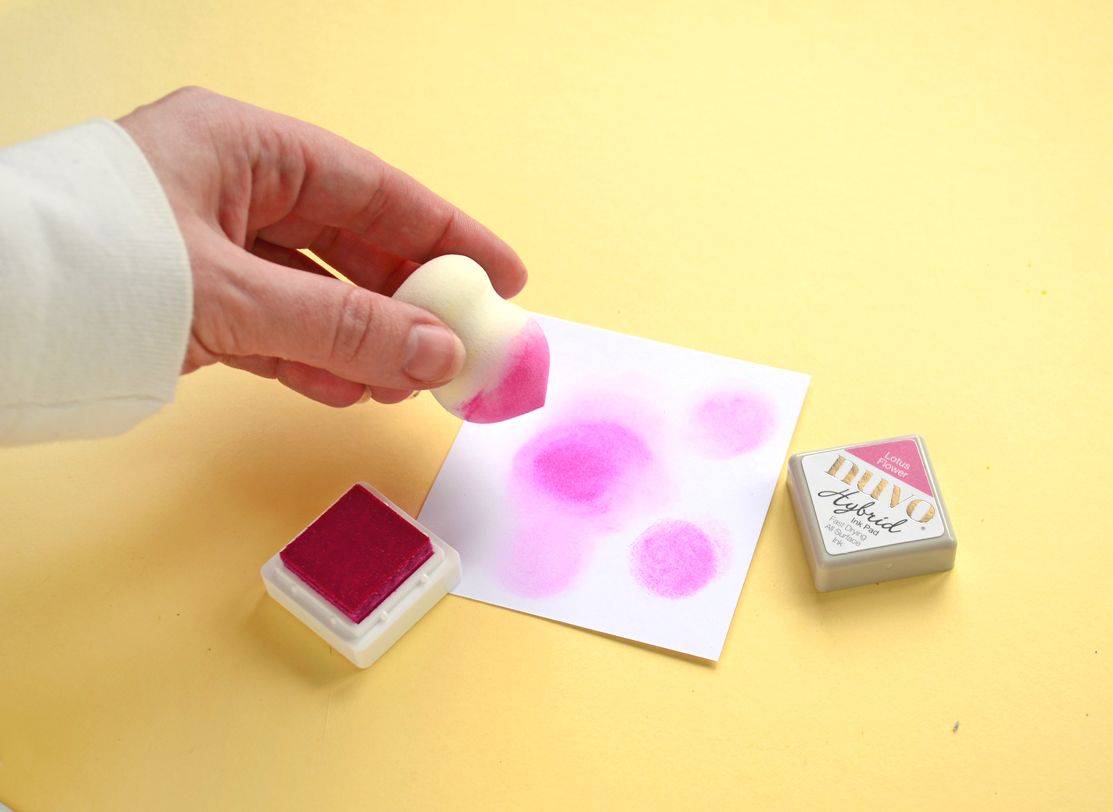 ---
3 Basic Techniques With Nuvo Hybrid Inks
STAMPING
Place a stamp on an acrylic block, cover it with ink and press the acrylic block with the stamp on a piece of cardstock.
Use a Stamping platform for precision stamping and to achieve richer colours.
You can stamp a whole card panel and get a great card background or you can cut out stamped image to decorate your card.
TIPS.
To get a nice crisp image use a smooth cardstock, on textured cardstock it's harder to get solid images, at least you will have to stamp a few times.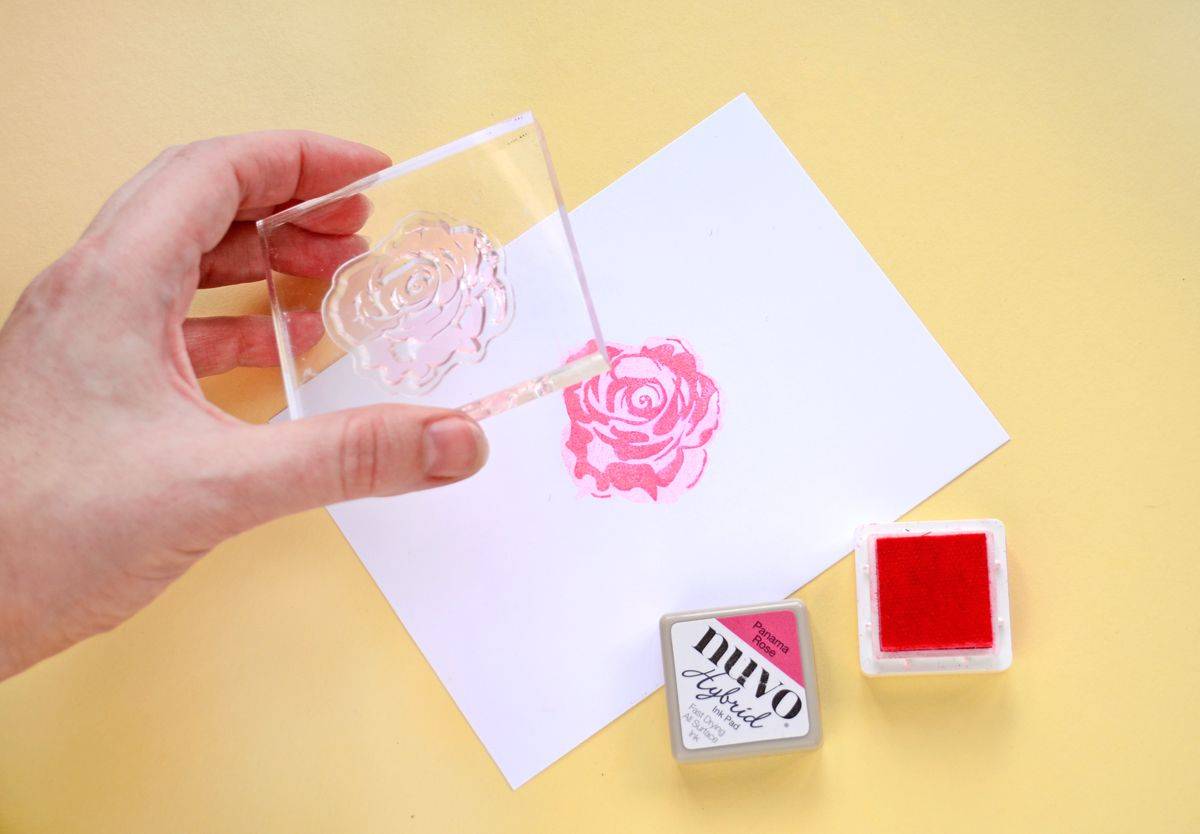 LAYERING STAMPING
This is the art of stamping over a previously stamped image.
Nuvo inks will help you to create nice stamped images because, during stamping, the inked layers will not mix with each other.
Use any colour combination to do layering stamping.
All the Nuvo Hybrid Ink colours are bright and with the wide colour range you can create endless designs.
---
STENCILING
Place a stencil over a piece of smooth cardstock.
Attach the stencil to the paper using masking tape for less movement - less mess on the paper.
Use a blending tool to apply ink (This could be a dauber or a sponge)
You can apply only one ink colour to create a gradient from dark to light or you can cover a whole panel with one single solid shade.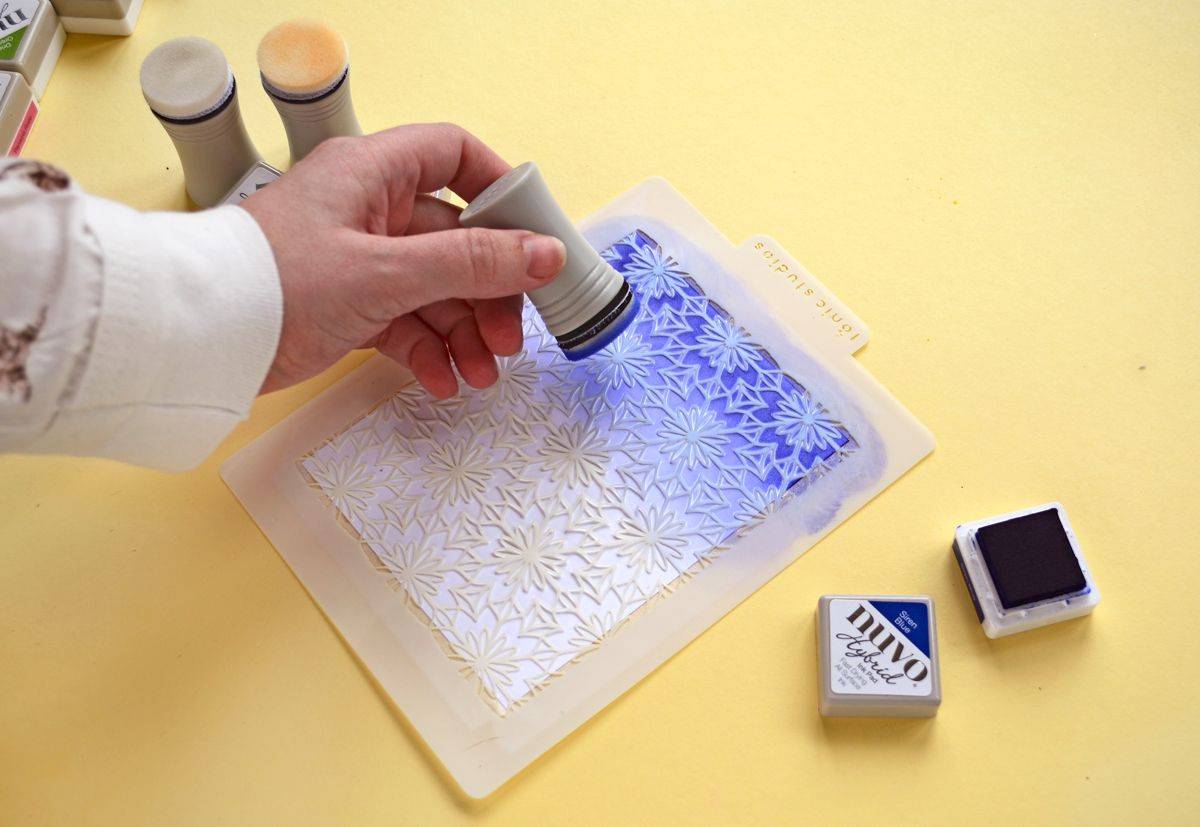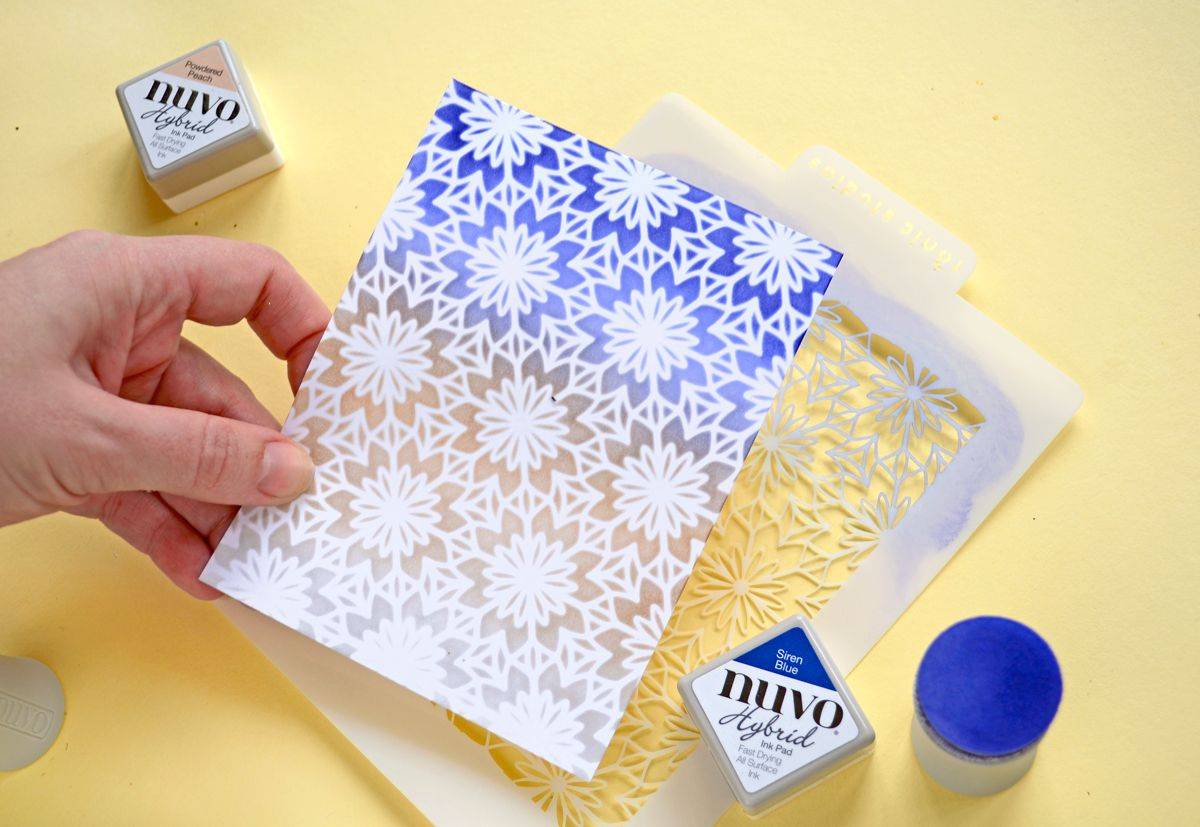 You can also apply different colours and do some ink blending over the stencil.
The Colour combo for this panel - Siren Blue, Powdered Peach, Marble Statue.
Here is one more example, using different Nuvo Hybrid Ink colours.
Colour combo for this panel - Spring Heather, Panama Rose, Amber Ochre.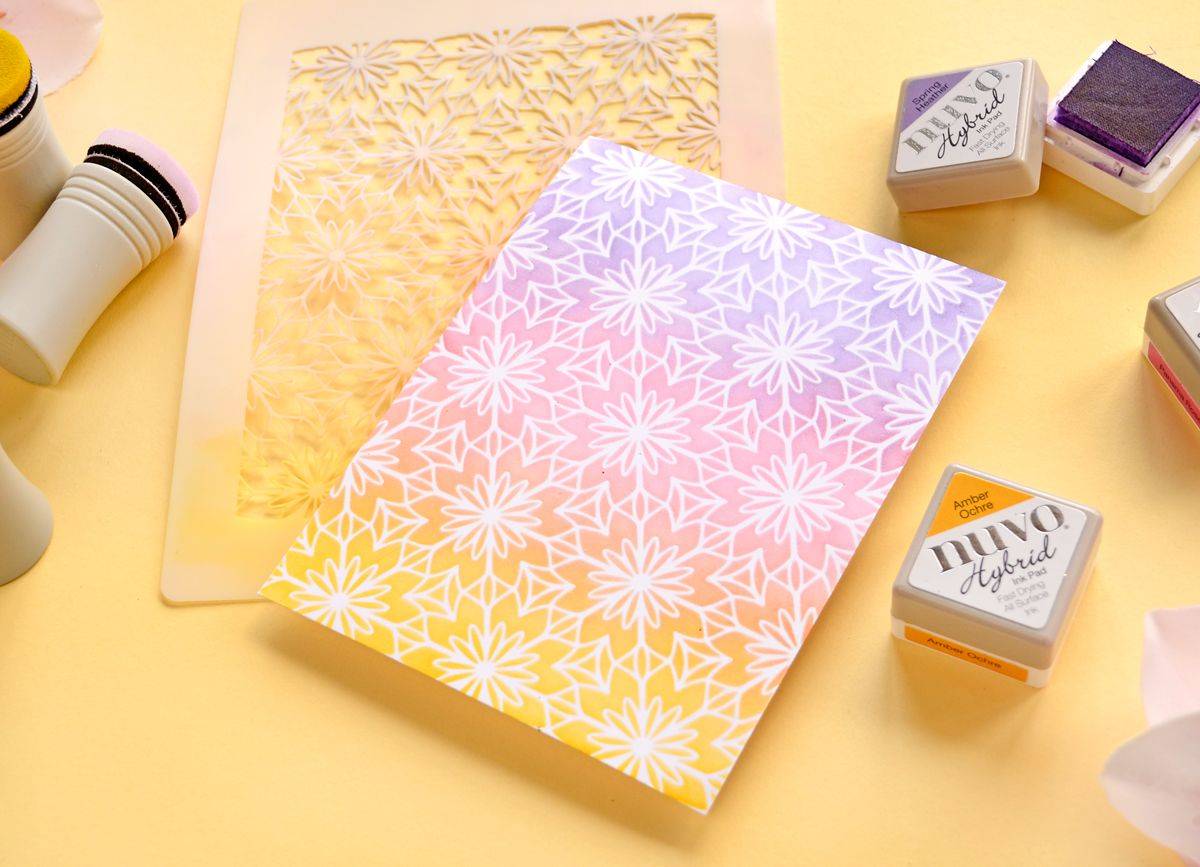 You can also accent with different ink colours and a stencil. For this, I recommend using a Blending sponge instead of Dauber.
Colour combo for this panel - Panama Rose, Rubber Duck.
Tip. Lightly tap the sponge over the stencil to avoid harsh strokes on the card panel.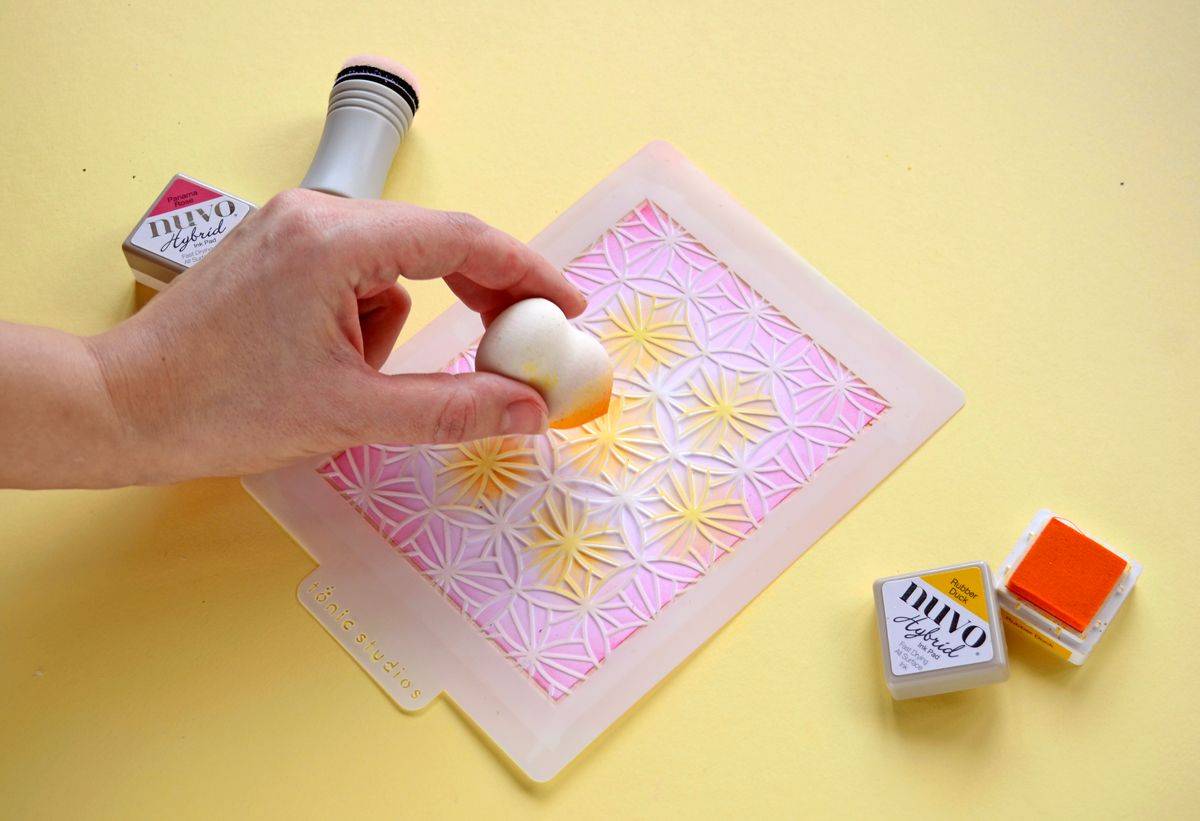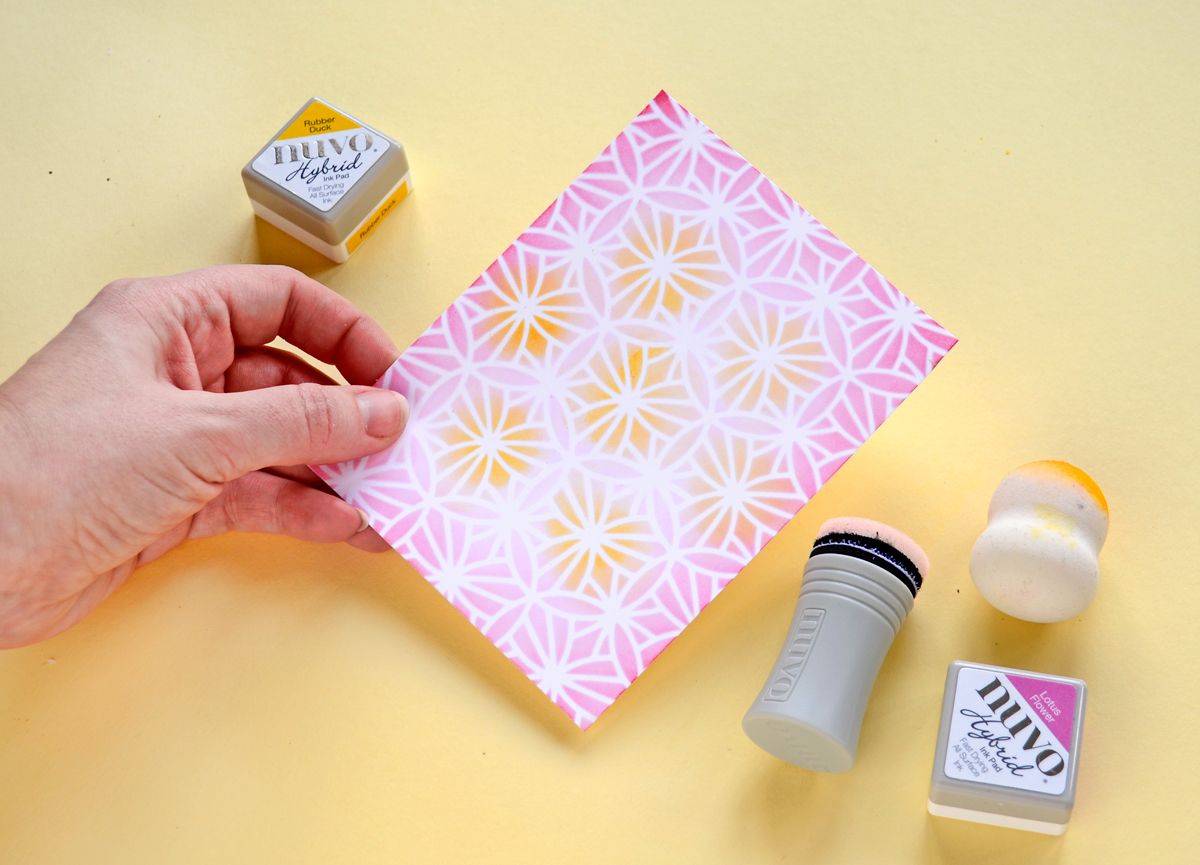 Nuvo inks are high pigment inks and you can use them on coloured cardstock as well. In the picture below I used a light yellow card panel and applied Sliced Strawberry and Carrot Stick Nuvo Hybrid Inks.
If you want to create a focal point in the center of the card, simply apply inks over the edges of your panel.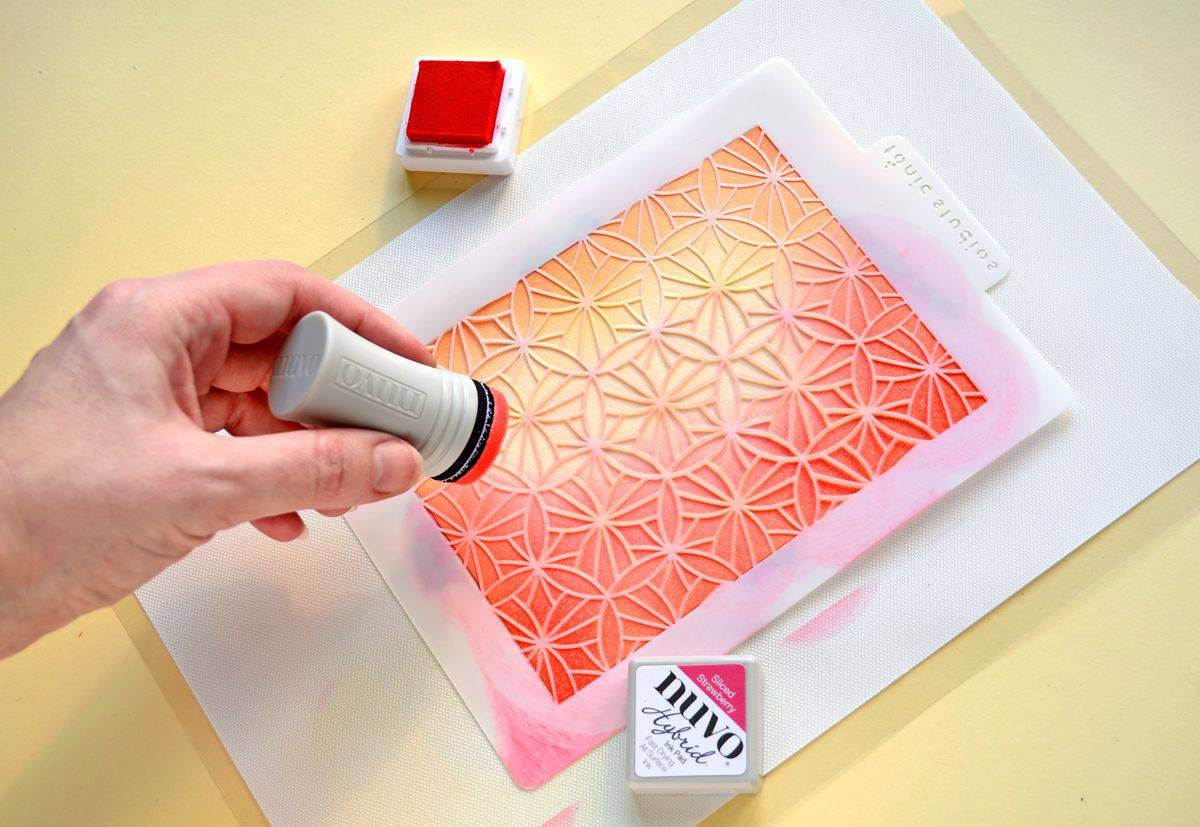 ---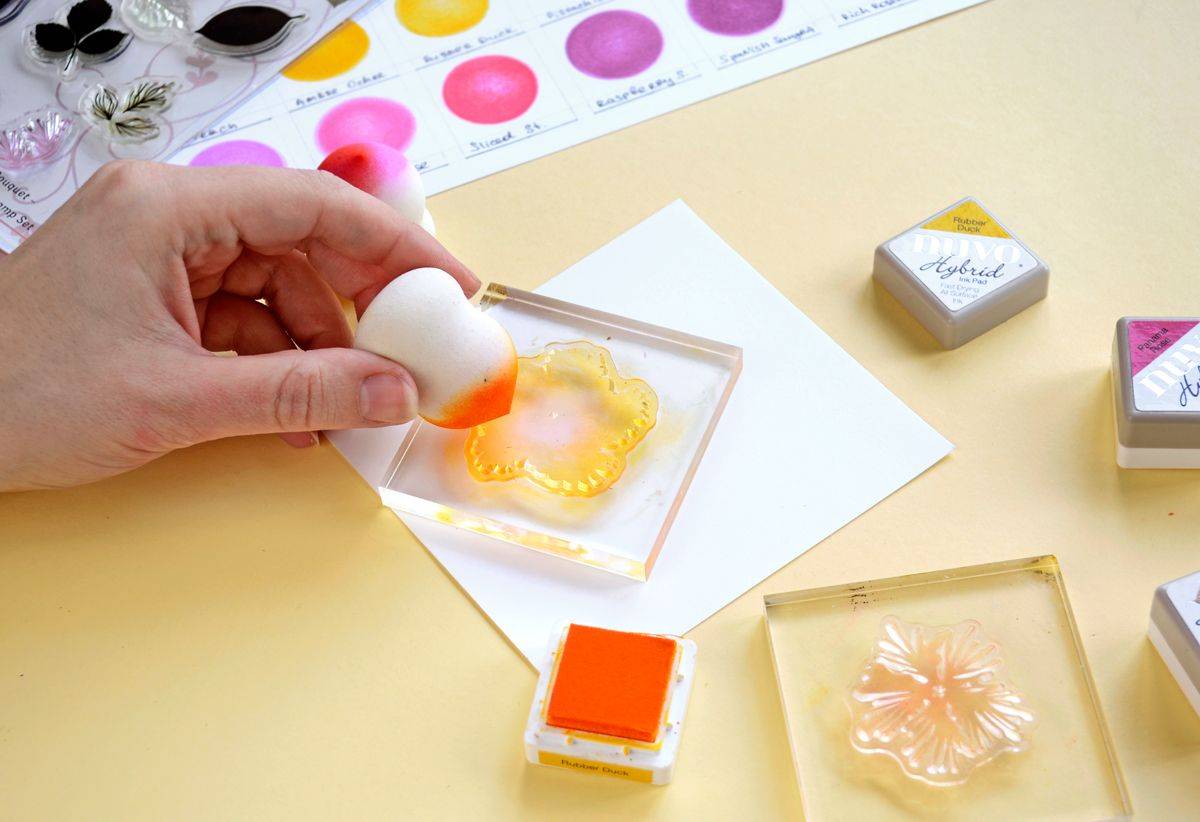 Multicoloured Stamping
Using sponges you can apply ink to your stamps for soft multicolored stamped images.
I applied a yellow ink over the stamp edges and then I stamped the image on the paper
Next, I applied pink ink in the center of the stamp using the sponge and I stamped over the first image.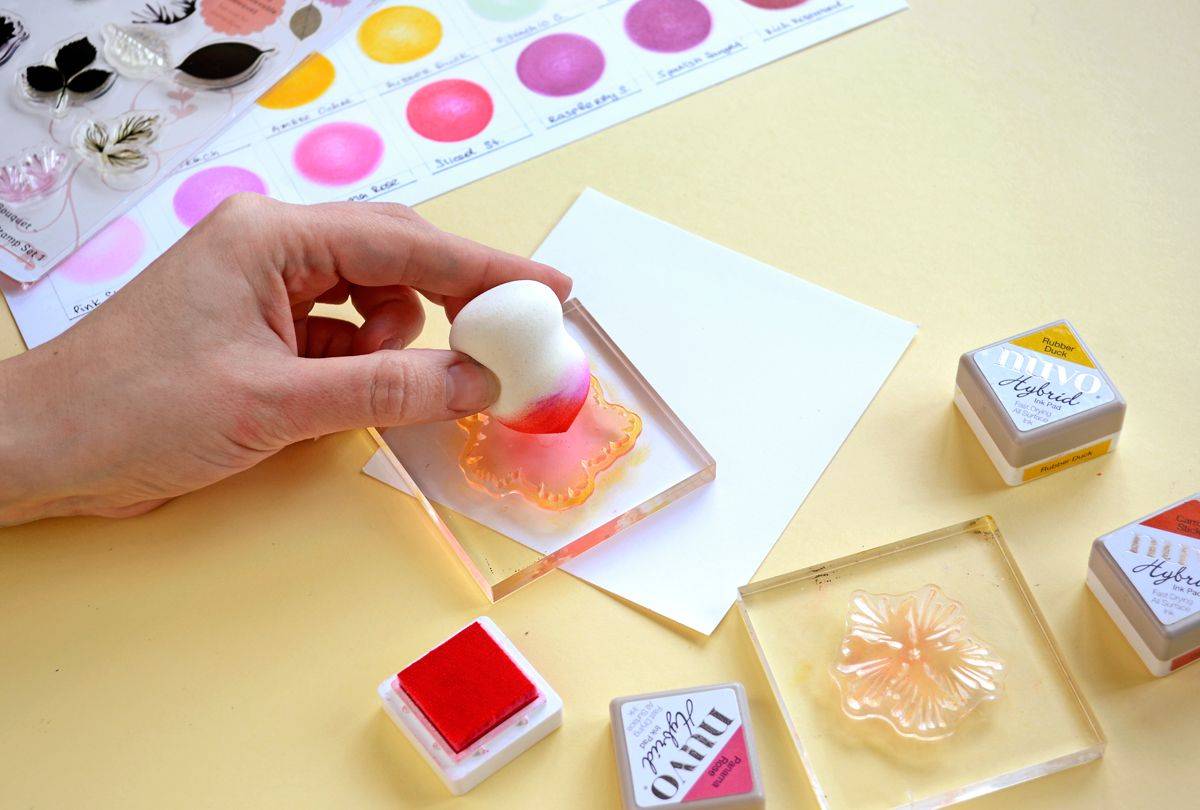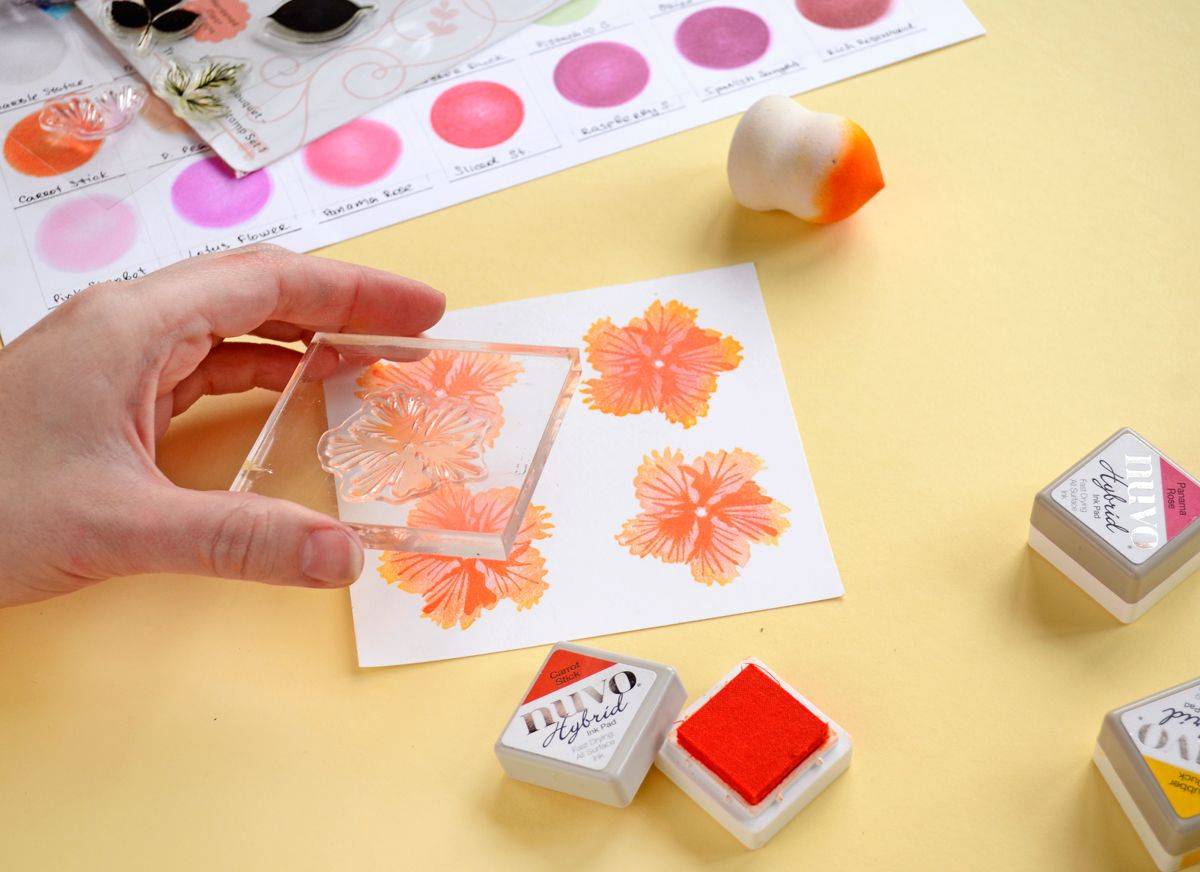 With the Nuvo sponges you will get a smooth

colour transition.

You can add a second layer of ink if needed by repeating the process.
This technique works well even with outline stamps. With this kind of stamp, you can apply different ink colours directly on a stamp.
You can also use Nuvo sponges to apply on the stamp dark and light inks to create beautiful gradients.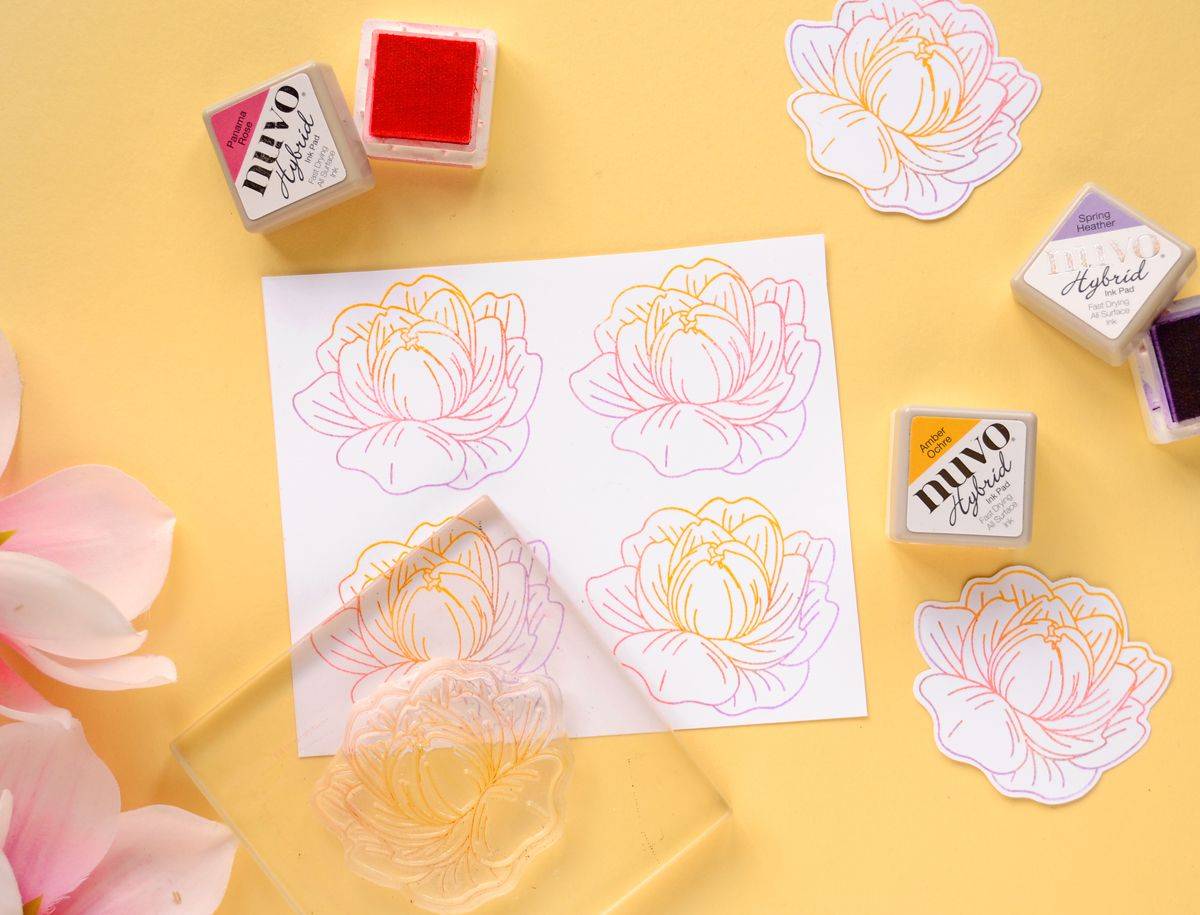 ---
Now Let's Put Some Cards Together...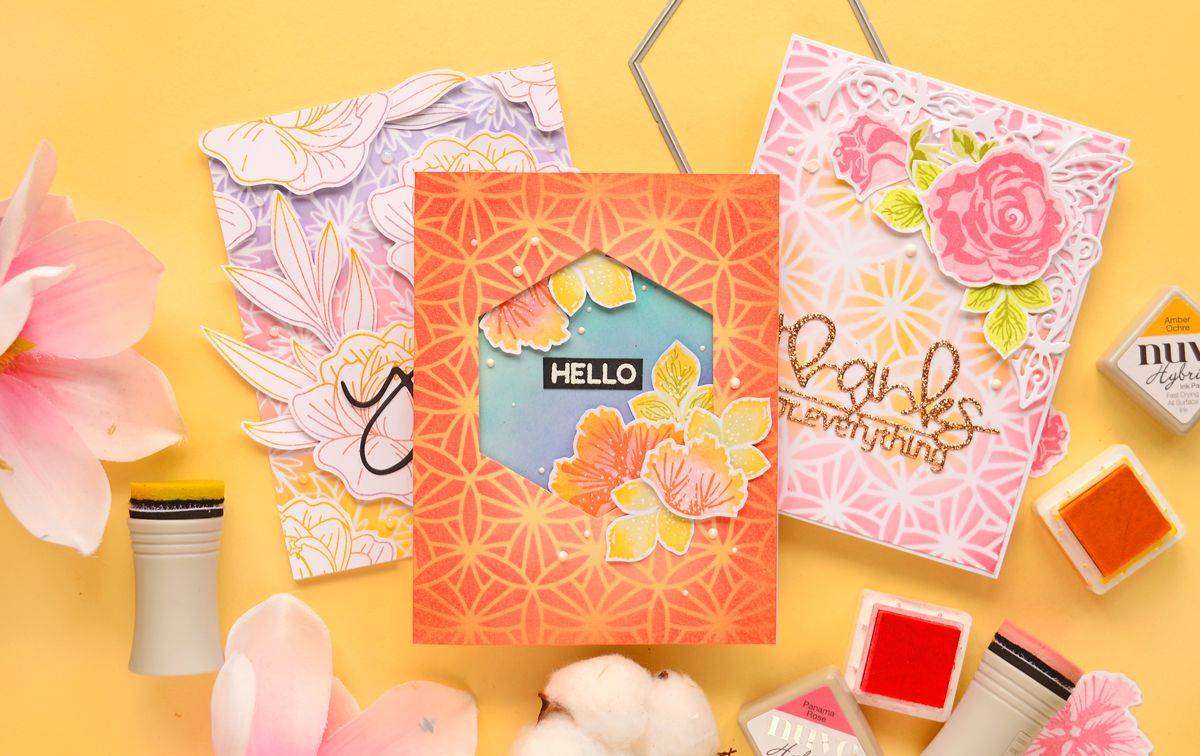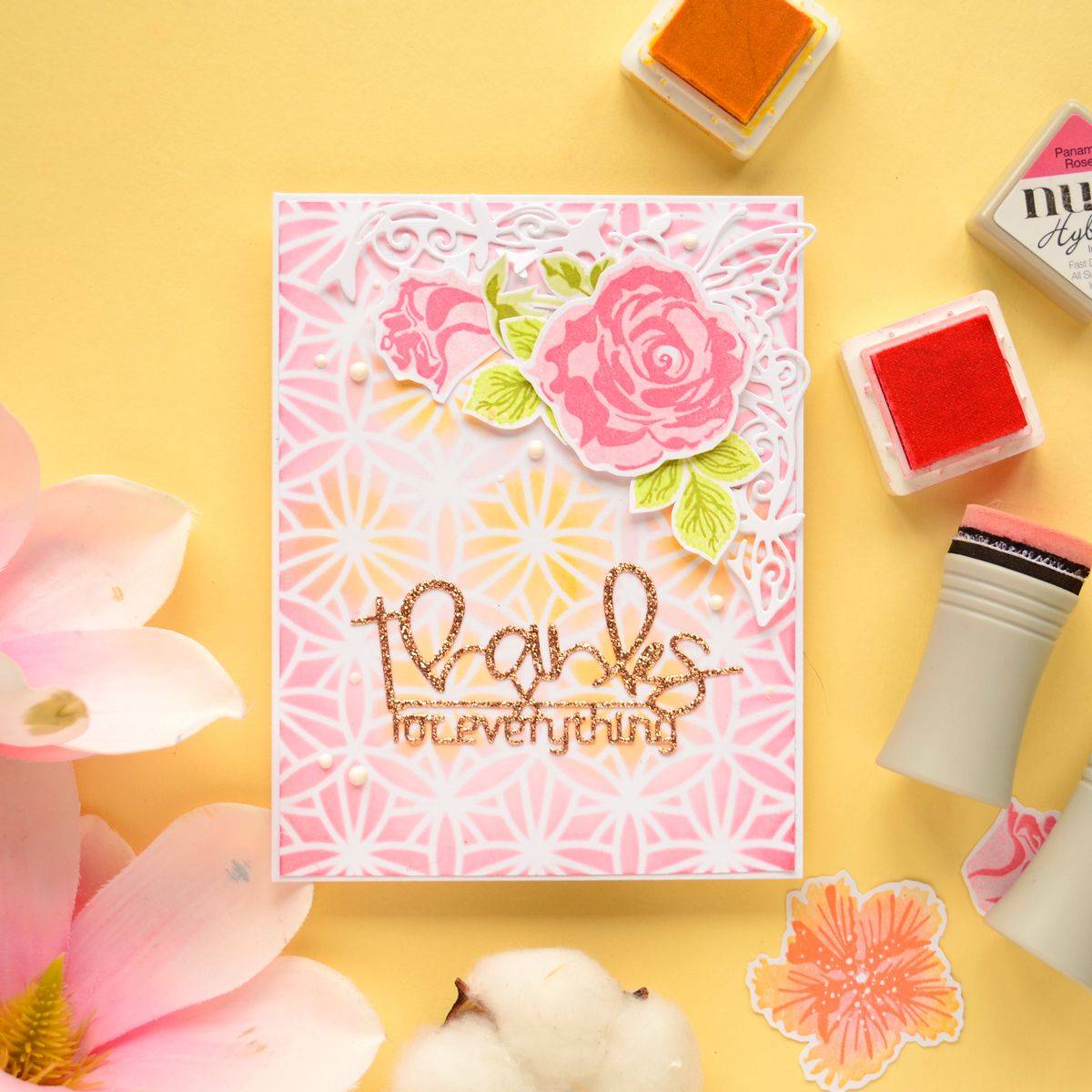 For my first card, I used a simple layering stamping and a card panel with yellow accents. I decorated my card with a die-cut I made using Tonic Studios - Essentials - You're The Best Floral Frame Die Set - 2801E.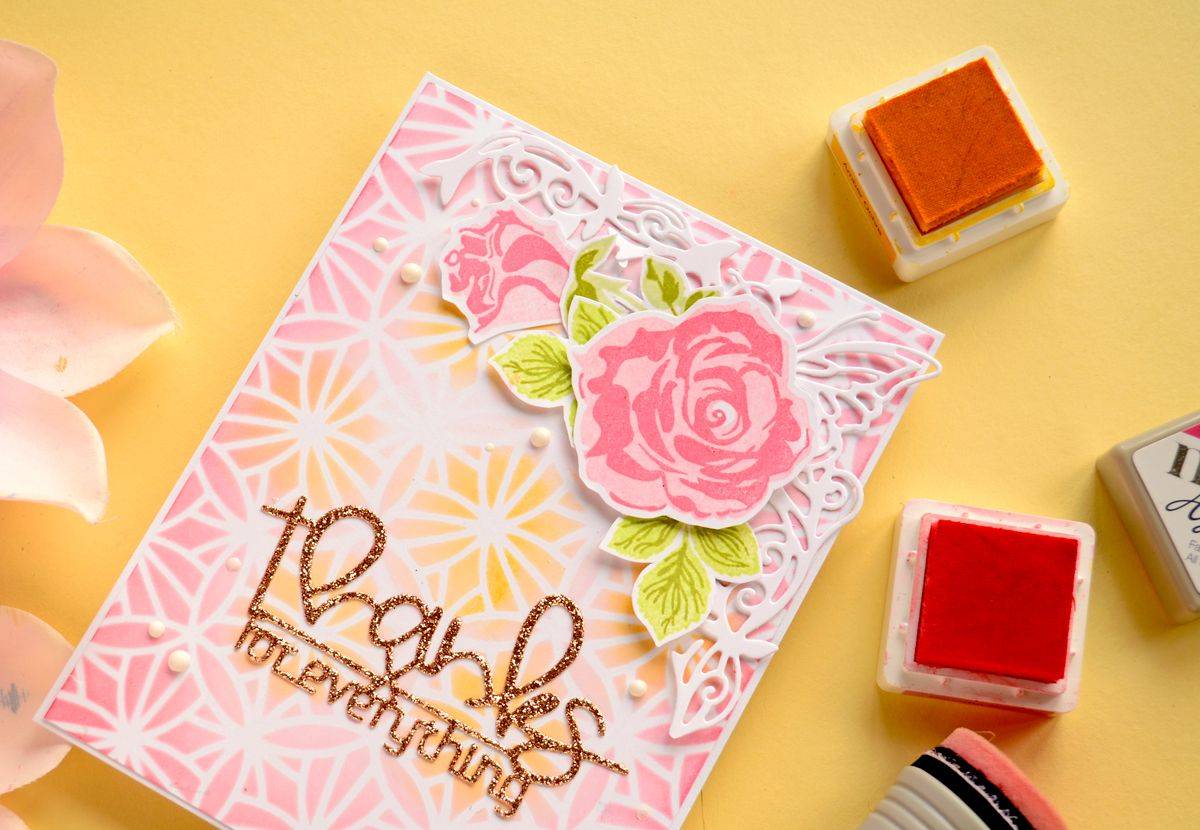 For the second card, I used the multicolored flowers and the pink card panel I made using coloured cardstock. I cut out a window in the centre of the card panel and I placed a piece of paper with an ink blended background.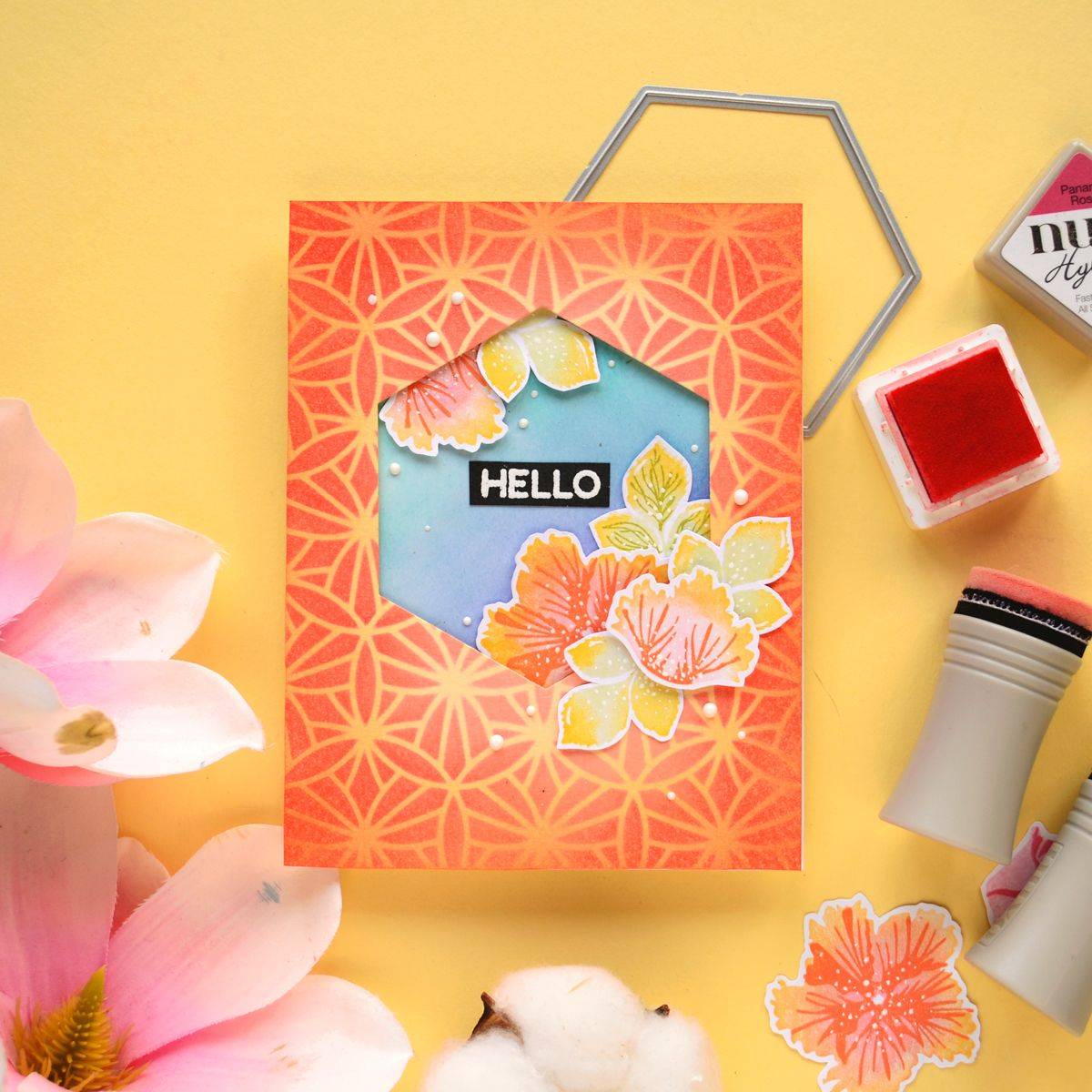 I foam mounted a few flowers around the window and heat embossed a sentiment. To decorate my card I added a few white Nuvo drops.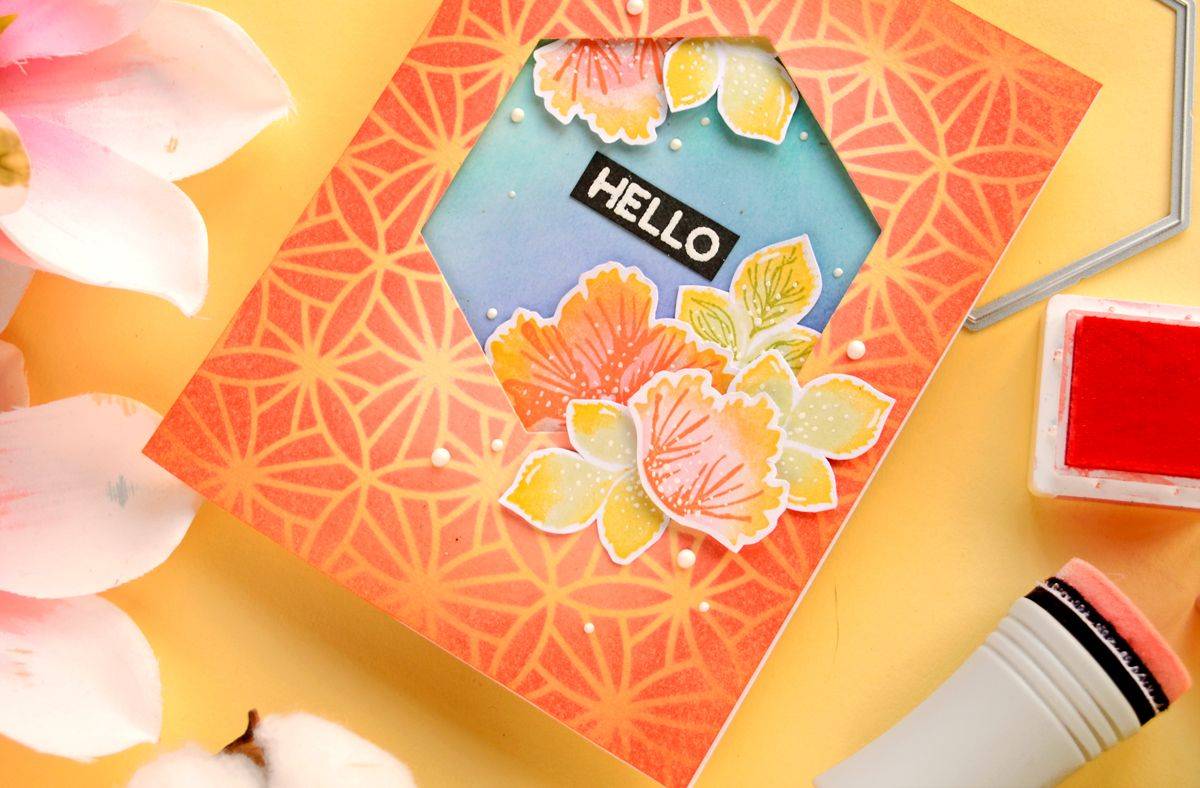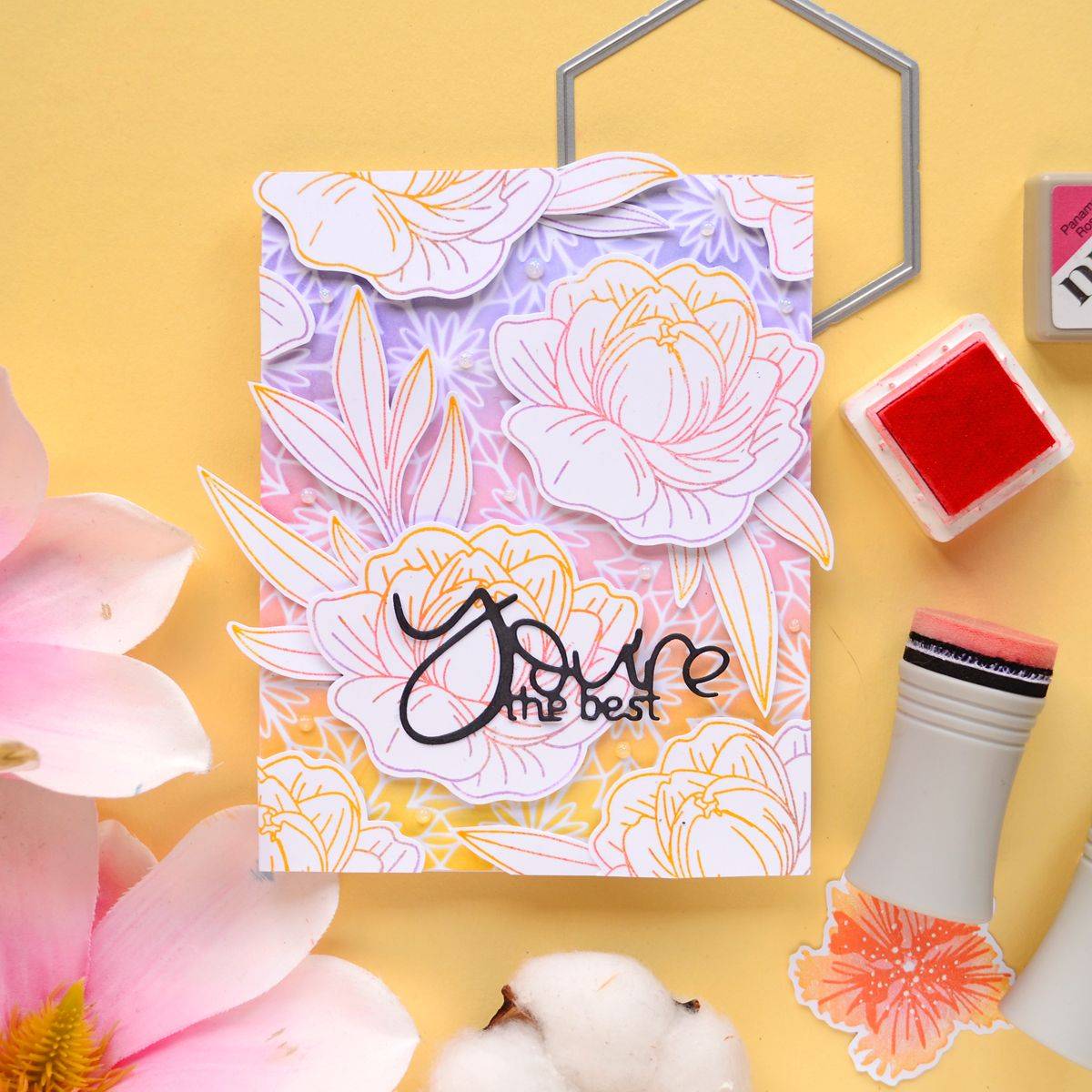 For flowers, I used the same inks as for the card panel - Spring Heather, Panama Rose, Amber Ochre. To finish my card I added a few Glitter Nuvo drops around the flowers.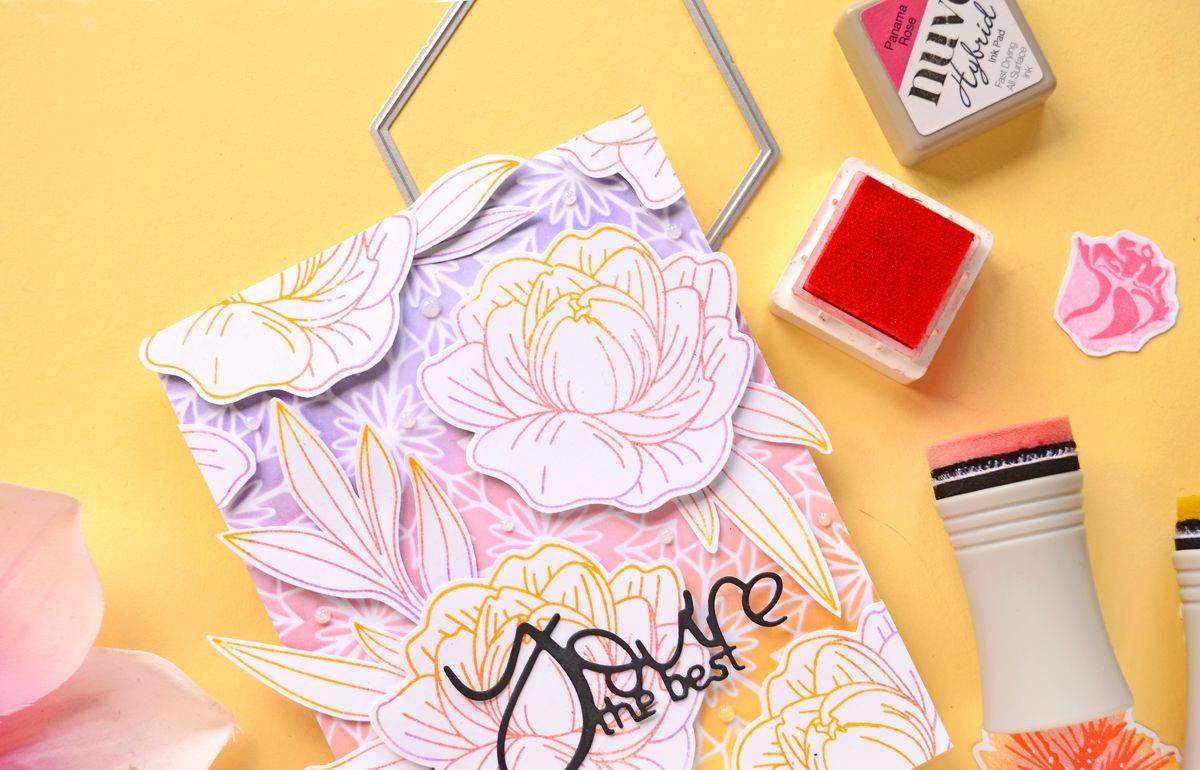 ---
This weekend at Tonic Studios our Tonic Saver Bundles are all about the Ink!
Choose from a fantastic collection of exclusive deals on Nuvo Inks and accessories at up to 60% off. Select from Nuvo Hybrid Inks and Large Ink Pads bursting with colour, along with precision tools to create your next masterpiece.
So make a splash this weekend on the Tonic Store with these Inkredible Ink Filled Deals!
FOR USA BUNDLES VISIT - https://bit.ly/2rtdRH3
---
Take a look at our full Nuvo ink pad range